Defentron Brings '80s-Style 3D Tower Defence To Switch Next Month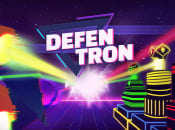 If you're looking for a new tower defence game to get stuck into this Christmas, you might want to keep an eye out for Defentron.
A 3D tower defence title set in an '80s-style virtual universe, Defentron has you coming up with the best strategies to fend off waves of pesky computer viruses. You see, the action actually takes place inside a computer system, as detailed in the game's eShop description:
"Get ready and battle for the ultimate upgrade. Defentron, the retro-futurist computer system is trying to safeguard itself from malicious viruses that seek to control its core.

Use strategy to upgrade your lines of defense and become the most powerful security system ever known.

Think like an 80s software. You will face fast, hard, resilient enemies, capable of regenerating or splitting when destroyed, returning to the battlefield. Nobody will be safe until the last of the living enemies falls.

Will you be able to save Defentron from the enemy threat? It all depends on you."
It's launching on Switch on 17th December for $9.99. Will you be downloading this one?