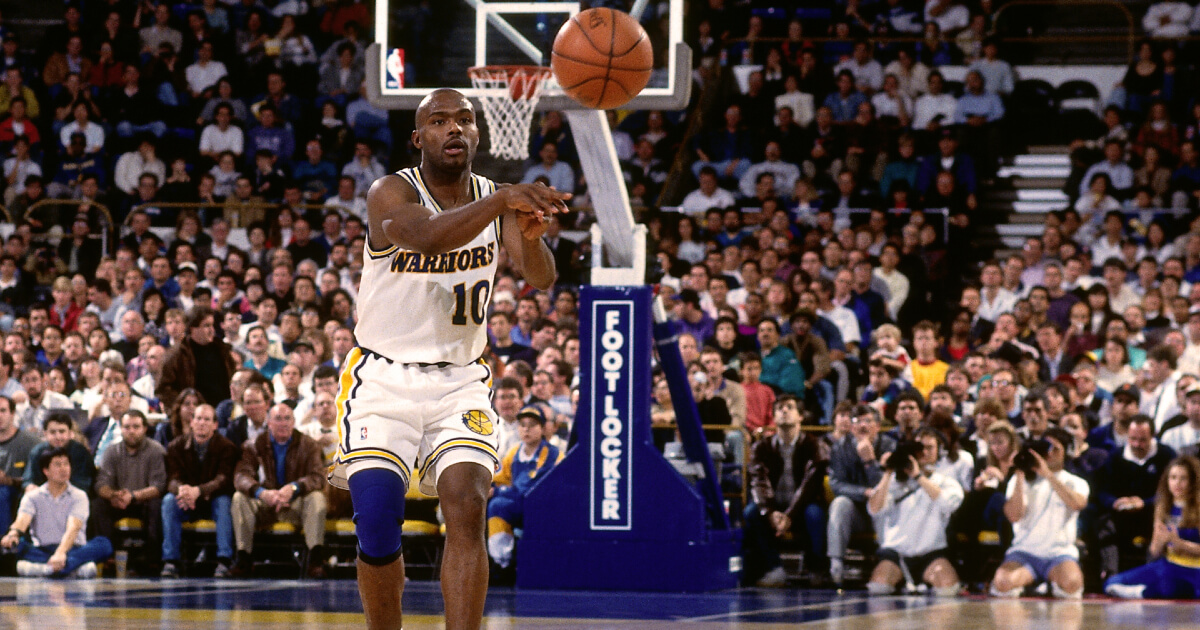 WELCOME TO STORYTIME.
In this SLAM series, veteran/retired players share some of the best, funniest and most unforgettable stories from their careers.
READ: Storytime with Monta Ellis
READ: Storytime with Quentin Richardson
—
Born and raised in Chicago, IL, Tim Hardaway followed in the footsteps of great guards like Isiah Thomas and Maurice Cheeks and paved the way for guys like Derrick Rose and Dwyane Wade. Hardaway's game was one of the most entertaining the League has ever seen. With his explosive quickness and flashy handles, Tim broke a lot of ankles during his career.
After four years at the University of Texas at El Paso, where his killer crossover was nicknamed the "UTEP Two-Step," Hardaway was drafted by the Golden State Warriors with the 14th overall pick in 1989. Along with teammates Mitch Richmond and Chris Mullin, he formed "Run TMC," the fast-paced, electrifying trio that had The Bay rocking. Hardaway made three consecutive All-Star teams from 1991-93 and two more as a member of the Miami Heat in 1997 and 1998. Over 13 years in the NBA, he averaged 17.7 points, 8.2 assists and 1.6 steals.
We caught up with Hardaway to talk about some of the greatest memories from his incredible basketball journey:
—
SLAM: Describe your greatest or proudest moment ever on a basketball court.
TH: Man, I have so many fond memories from grammar school, high school, college and the NBA. But I'm going to pick one and it was on the biggest stage of them all. We were on national TV. Game 7 against the Knicks in the Eastern Conference Semifinals. Alonzo [Mourning] went out with four fouls, so he had to sit down. There was a timeout and nothing was said. Nothing was said. I've never seen [coach] Pat Riley—this was my first time seeing Pat Riley in a really, really serious atmosphere. Game 7. This was my first encounter with him in that particular environment. I saw that there was a hush and a blank on his face. I'm looking down. When my teammates saw [Pat's] face, I'm looking at them like, Oh wow, everybody's following his lead. Me, I'm thinking in my mind, Shit, I've been in this predicament many times in grammar school, high school, college, in playgrounds, pick-up games. I've been in this type of environment before. I was like, OK, now I can do what I want to do. This is my comfort zone. So I went out there, did what I needed to do, made shot after shot after shot and we were playing good defense. That was my comfort zone. I was back in my element, where I needed to be. I think that's one of the biggest games and experiences I had in my lifetime. We went to the Eastern Conference Finals and lost to the Bulls, but we went there. And I played in front of my home city and my friends, family. It was just a lot of fun.
SLAM: Was Pat just speechless in that moment or was his silence intentional? What was your read on it?
TH: It was a TV timeout with, like, six minutes left to go in the third quarter. I really thought he was speechless, didn't know which way he wanted to go, how he wanted to go, who he'd go to. I think that he always felt that because him and Zo had this kind of bond, now it was like: Who else am I going to go to? He didn't understand, Zo was hurt most of that year. Isaac Austin always stepped up, PJ Brown always stepped up, Jamal Mashburn. We had people that'd come off the bench like Ed Pinckney, Mark Strickland. People just stepped up off the bench in Zo's absence, so we never missed a beat. I think that he was searching, searching, searching and once the timeout was ending, there was nothing to be said. I was just like, Come on guys, let's go. I got it. We're gonna win this game. Don't worry about it. I got it.
SLAM: What's the best prank in the NBA that you ever witnessed?
TH: Best prank in the NBA was on me [laughs]. My first year. It was a preseason game. Golden State Warriors against the Utah Jazz at my alma mater, UTEP. This is my rookie year. I'm hype. I know what I need to do out there on the court, but I'm just ready to play. They said, Alright, Tim, lead us out of the tunnel. I ran out and before I knew it, I was already on the court and they were still in the locker room [laughs]. The Utah Jazz started laughing at me. The PA announcer said, Alright, it's your Tim Hardaway Warriors. He helped me out a little bit. I stood up with my hands up like, Yeah, I'm back and I appreciate being back. And the crowd gave me a standing ovation. But it was embarrassing at first. I ran out there by myself and was like, Ain't this a bleep. Until the PA announcer said that, I was really about to put my head down. I didn't know what to do until he said that and then I was alright. That's the biggest prank I've ever seen but I was in it so…
SLAM: Who was the funniest teammate you ever had?
TH: That's a no-brainer. Tom Tolbert is the funniest teammate I ever had. He always looked at Seinfeld. He was a Chevy Chase guy. He always had jokes for you, one-liners for you. He always kept the team up. When the team was down, he always had a way to keep the team up and say something to help the team out, to get us loose.
SLAM: What's an example of something he would say?
TH: [Coach] Don Nelson would say, You know, this is some bullshit, so and so or this and that or whatever. And Tom Tolbert would be like, OK, well since that's over with, I might as well just go ahead and have a beer or I guess I'll go to Las Vegas tonight and get drunk and gamble and I'll see y'all in the morning at shoot-around. He'd just say something off-the-wall.
SLAM: Who's the most competitive guy you ever played with?
TH: Are intense and competitive the same thing? If so, I'll say Alonzo Mourning. By far Alonzo Mourning. Intense. Never wanted to lose. If he missed a jump hook in shoot-around or practice, he'd be like, Give me that ball back, give me that ball back. He had to make that jump hook the same way before Coach Pat [Riley] could talk. It was amazing. That's how competitive he was. He wanted everything to be right. When he was out there, he wanted everything to be 100 percent right. He didn't want any mistakes. Alright, let's do it again, let's do it again. I got to get it. Let's do it again. Until he gets it right about two or three times and then he's alright with it. He was very competitive on our team.
SLAM: Of all your ridiculous crossovers, which one is your favorite?
TH: Oh my god. There are a lot of them, man. I crossed a lot of folks over. Some of the things I did, I don't even remember them. People tell me that I did this or that and I'm like, I don't even know, I'm just out here hooping. I'll say this and it's just a tribute to him. I always wanted to go against my idol Isiah Thomas. I always wanted to play against him in a meaningful game. When I crossed him over in a game, I mean crossed him over, that felt really, really good. He went for it, he bit on it and I crossed over and I was all by myself and laid it up. I think we were in Oakland. I always wanted to play against him and always wanted to do my best in front of him, so probably that one.
SLAM: Describe the moment where you screamed "IN YO FACE!" at Charles Barkley.
TH: You know what happened? It was a preseason game at Cal. We had a rivalry with the Phoenix Suns. We always had great battles with them. It just started in the preseason. We were all healthy. Both teams were talking a lot of smack. I mean a lot of smack. Even before the game, people were getting into it. We were talking to them, they were talking to us. It was just a lot of shit-talking, basically. I just so happened to come down the lane at that particular time and I went up forcefully. Even though it was a preseason game, we wanted to show them that this year, We're coming for y'all. It's going to be different this year. We're coming for y'all. I just went to the hole and laid it up on him, and-one. And I just wanted him to know that, "Hey, IN YO FACE!" And there's going to be a lot more of that this season, too. That's where that came from.
SLAM: Is that an expression you used often?
TH: That just came out of nowhere. Normally, I'd just be like, "And-one!" Or something like that. But when I said "in your face," I just wanted to tell him that we're coming for y'all this year.
SLAM: What's your best Run TMC story?
TH: Let me see. The best Run TMC story I have—we were in the playoffs against San Antonio. And Coach Nelson got on Mitch and myself in a film session. He's just like, Are y'all going to play some fucking defense? Y'all just let Rod Strickland and Willie Anderson or whoever just come in the game and kick our ass. You two got to play some defense. We're not even gonna talk about offense, we know that your offense is gonna come. But defense, man. Y'all got to take some pride in defense.
So we started that day and we played 3-on-3 full court for about an hour and a half while Nellie and Gregg Popovich and the rest of the coaches were up in the concourse walking around and talking. We were down there playing and he came down and said, Hey, what are y'all doing? Y'all know we play tomorrow, right? He said, Let's play a game of HORSE. We're just going to use one ball. We shot the ball and he took it and was like, Alright, y'all leave. Y'all go.
But he got on Mitch and I and then that next game, Mitch, Chris Mullin and myself, we really took it to them. That was one of our best moments. We felt that we could beat anybody, anytime, anywhere. Right then and there, in a pressure situation where we needed the game, I think we graduated ourselves to that next level.
SLAM: Who's the toughest guard you ever had to defend?
TH: I always say these two guys. They never get the recognition that they're supposed to get. Never. I'm talking about Kevin Johnson and Rod Strickland. A lot of people don't talk about those two guys but, man, they gave me some headaches on the court. I mean, some headaches. They played just like me. Rod didn't have a jumpshot but when he was on, he'd make a couple here and there. And any time he went to the rim, it was a possible three-point play. Any time. That's how much stuff he had. I loved playing against them. They rose my game up to a different level. I have to say those two. Kevin Johnson and Rod Strickland. They don't get enough just due for what they were out there doing on the basketball court.
SLAM: Why do you think they're so underrated?
TH: There were so many of us [guards]. You're talking about Gary Payton, Jason Kidd, John Stockton was still there, myself, Terrell Brandon, Mark Price, Mookie Blaylock, Terry Porter. You had a lot of guys. Then you had new guys coming in like Steph Marbury, Kenny Anderson and those guys. There were a lot of people. We were always at the top but they were right there below us. A lot of people don't talk about them but Rod Strickland and Kevin Johnson… oh my god.
—
Alex Squadron is an Associate Editor at SLAM. Follow him on Twitter @asquad510.
Photos via Getty.