Sabrina Ionescu has the ball at the top of the arc, her defender inches closer, wary of the threat the triple-double queen poses. Ionescu starts to drive to the basket, dragging two defenders with her before she kicks it out to Satou Sabally in the corner. Bang! Sabally drains the three, puts her head down and runs back down the court, ready to defend the next possession. Over the past three years, this play is repeated again and again. It's unstoppable.
Three event-filled years have gone by. Two Pac-12 championships, one trip to the NCAA finals that ended in heartbreak and one chance at redemption that never came. But Sabally's not looking back. Instead, she's ready for her future—the WNBA and the glory it promises.
In 2017, when Sabally had committed to Oregon, ESPN had the tall German ranked as just the 36th-best player in her recruiting class.
"I just thought, OK, I'm not a top-ranked player. I'll play like one and I'll get up there," the junior says about her mindset at the time.
Now, just three short years later, Sabally is widely projected to go No. 2 in the 2020 WNBA Draft.
Oregon coach Kelly Graves once described her as "maybe the most interesting player I've ever coached." And it's clear to see why. The 6-4 German may occupy the forward position, but she boasts the athleticism and ball skills often found in a guard. Sabally averaged 15 points per game this season while shooting 39 percent from beyond the arc. She knocks down threes with ease, she relishes smacking her opponents' shots away and she twists and turns her way to the basket with the poised body control of a cat.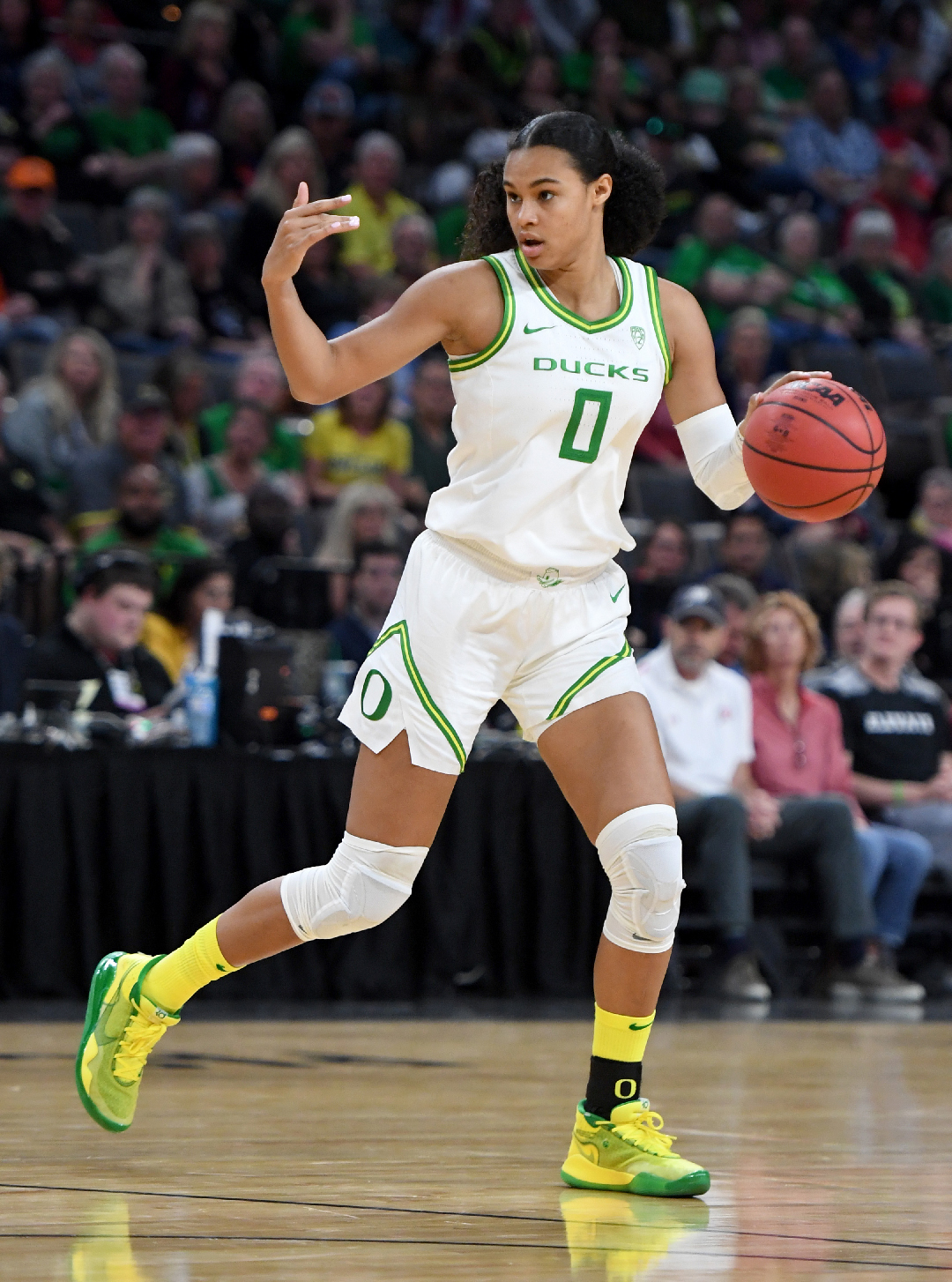 But Graves also knows her as a woman who is incredibly curious and self-aware. He remembers how, during a team trip to the Muhammad Ali Museum early on in her freshman year, he couldn't get her to leave. She stood there long after everyone else had left, reading every plaque, asking questions, hungry to learn every crumb of information about the legendary athlete and civil rights activist.
Sabally arrived in Eugene, OR, as a lanky kid from Berlin and struggled to keep up with stars like Ionescu and Ruthy Hebard in practice that first year. But she kept pushing, kept firing shot after shot, putting in hours of work in the gym and staying up all night to complete her schoolwork.
When you ask her about her time in Oregon, her toothy smile grows wide. Her love for the sport radiates through the computer screen as she reflects on all of the everlasting memories she made with her teammates.
Despite being named Pac-12 Freshman of the Year, she was convinced her shooting wasn't good enough. So she improved, shooting 51.3 perecent from the field during her sophomore year and averaged a career-high 16.9 points per game. By the time her junior year rolled around, she had become one of the leading voices on the team. But she also knew that she could do more on the court to help Ionescu and the rest of her teammates. She became hungrier defensively, crashing the boards every time and she averaged 6.9 rebounds per game this season. In her three-year college career, she's made 180 three-pointers, good for ninth in school history.
"I think she's kind of worked on one facet of her game and improved in that area with each and every year," Graves says. "She went from basically a spot-up shooter as a freshman to a little bit more of a driver in her second year and now, [she's] much more of a driver that could create for others. She was better on the block, better on the rebounds. So she continued to evolve as a player as well."
Born to a Gambian father and a German mother, Sabally grew up in Berlin in a home with six other siblings running around. Basketball is not the most popular sport in Germany—soccer is what courses through the people's veins, it's the sport played on playgrounds, fields and streets across the country.
But Sabally never gave up on her hoop dreams, and she says her family's continuous support pushed her to keep going. She has even represented Germany on the international level, leading them to first place in the FIBA U20 European Division B Championship three summers ago and helped them qualify for FIBA EuroBasket Women 2021.
"My little brothers are actually playing soccer, and I told them to go to basketball," she laughs. "But soccer's fine, too."
She left everything and everyone she knew home when she traveled to Oregon alone to start her freshman year three years ago. She knows how to lead and how to make her voice heard. And on an Oregon team with loads of talent and incredible aspirations, she stood out.
"I think she was one of those players that was looked up to by everybody, by the young kids, by the older kids," Graves says. "She wasn't afraid to step up and challenge other players when that needed to be the case. She's the whole package in terms of being a great teammate, being a great citizen and being a great basketball player."
In February, when Sabally announced that she would be forgoing her senior season to enter the WNBA, she was nervous but also felt incredibly calm. She knew people might question her decision, but she felt confident. The memories of dropping 25 points in a win over Team USA in November and a career-high 33 points against Washington State at the start of the year were fresh in her mind. She yearned to help her family financially, to show the world who Satou Sabally is.
"You dream about it the whole time," Sabally says. "Why wait?"
In just one day's time, the 22-year-old's dream of playing in the WNBA will be one step closer. As for the next time she'll be able to take the court, nobody knows. But when the time comes, she'll be ready.
—
Bela Kirpalani is a contributor at SLAM. Follow her on Twitter @belakirpalani.