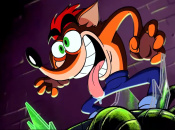 Crash Bandicoot has witnessed one heck of a revival in recent years. Whilst we continue hoping for a Switch port of Crash Bandicoot 4: It's About Time (any day now, right?), we've already seen two fantastic games with Crash Bandicoot N. Sane Trilogy and Crash Team Racing Nitro-Fueled since 2018, so we could completely believe that an animated TV series was in the works, too. If rumours are to be believed though, this has sadly been cancelled.
Initially leaked via Reddit on r/crashbandicoot, the original post advised this show was in the works between Activision and Amazon for the last year. It also contained alleged test footage and claimed it was cancelled due to disputes over the script. That post has since been deleted, but the footage has been posted elsewhere, though how long that'll stay up is unknown.
It wouldn't have been Crash's first outing in animation, either. Animated cutscenes were planned for the original adventure before getting cut by Sony and back in 2007, several web-films were produced in connection with Crash Of The Titans. More recently, he also appeared within Skylanders Academy, tying in to his Skylanders: Imaginators role.
Considering this rumored series has never been publicly acknowledged, it's unsure whether Activision or Amazon will comment on this leak. So for now, all we can do is wait and see.
Are you a Crash Bandicoot fan? Would you have liked to see an animated TV show? Let us know in the comments below.