'Life in the G': Alex Squadron's New Book Gives an Inside Look at the G League and the Relentless Pursuit of NBA Dreams
Zeroing in on the G League's Birmingham Squadron and four of its players—Jared Harper, Joe Young, Zylan Cheatham, and Malcolm Hill—during the historic 2021-22 season, Life in the G details the relentless pursuit of the NBA dream. Order your copy here.
In this excerpt, former SLAM editor Alex Squadron takes the reader inside the lead-up to the annual G League Winter Showcase, when all teams converge in one city to play in front of NBA scouts and executives.
'Life in the G' is available now. Get your copy here.
---
Film went longer than usual on the morning of December 16—way longer than usual. The Showcase was a few days away, and there was a lot to cover.
First, the new protocols. An impromptu mandatory meeting for all G League head coaches and athletic trainers had been convened the night before. In a Zoom conference call, league officials had mapped out a revised set of rules for Showcase due to the alarming spread of a new highly contagious coronavirus variant called Omicron. The first confirmed case of Omicron had been detected in the United States about two weeks prior. Research suggested that Omicron was more transmissible than previous variants and could be contracted by fully vaccinated and boosted individuals.
Amid this troubling next phase of the pandemic, the Showcase was going to be run like abubble. No fans would be permitted to attend. No guests would be allowed in hotel rooms. Masks were to be worn at all times, except when playing. It was strongly recommended that group meals, which could not exceed six people, be eaten outdoors.
"If you are seen at the craps table gambling, or at a bar or nightclub, the repercussions may be getting suspended through Showcase," [head coach Ryan] Pannone said.
"No may about it," [associate general manager Billy] Campbell chimed in. "They are looking to make examples out of everyone. There's a huge outbreak going on not only in the NBA but also in the G League. If you don't know, Windy City is not going to play at Showcase. They've had so many positives that they are out of Showcase. So all of the guys who have worked since training camp to get in front of NBA scouts will not be there."
Oof. Just hearing those words made stomachs turn. Showcase undoubtedly presented the best opportunity for G Leaguers to impress NBA scouts. Squadron players couldn't fathom the idea of it being taken away at the last second by something so largely out of their control. The team had undergone testing earlier that morning and fortunately received zero positives. Around the G League, however, the number of cases was climbing. The NBA was in even worse shape. Injury reports were starting to look like CVS receipts, with more and more players being sidelined by COVID each day. Coaches, executives, referees, and broadcast crews were also coming down with the virus.
The spread of Omicron was so rampant that Commissioner Adam Silver found himself scrambling for solutions to avoid a complete NBA shutdown. Should the league postpone games? Expand rosters? Impose stricter guidelines? Test daily? All of these questions were presently being floated. And the situation was trending in the wrong direction—fast.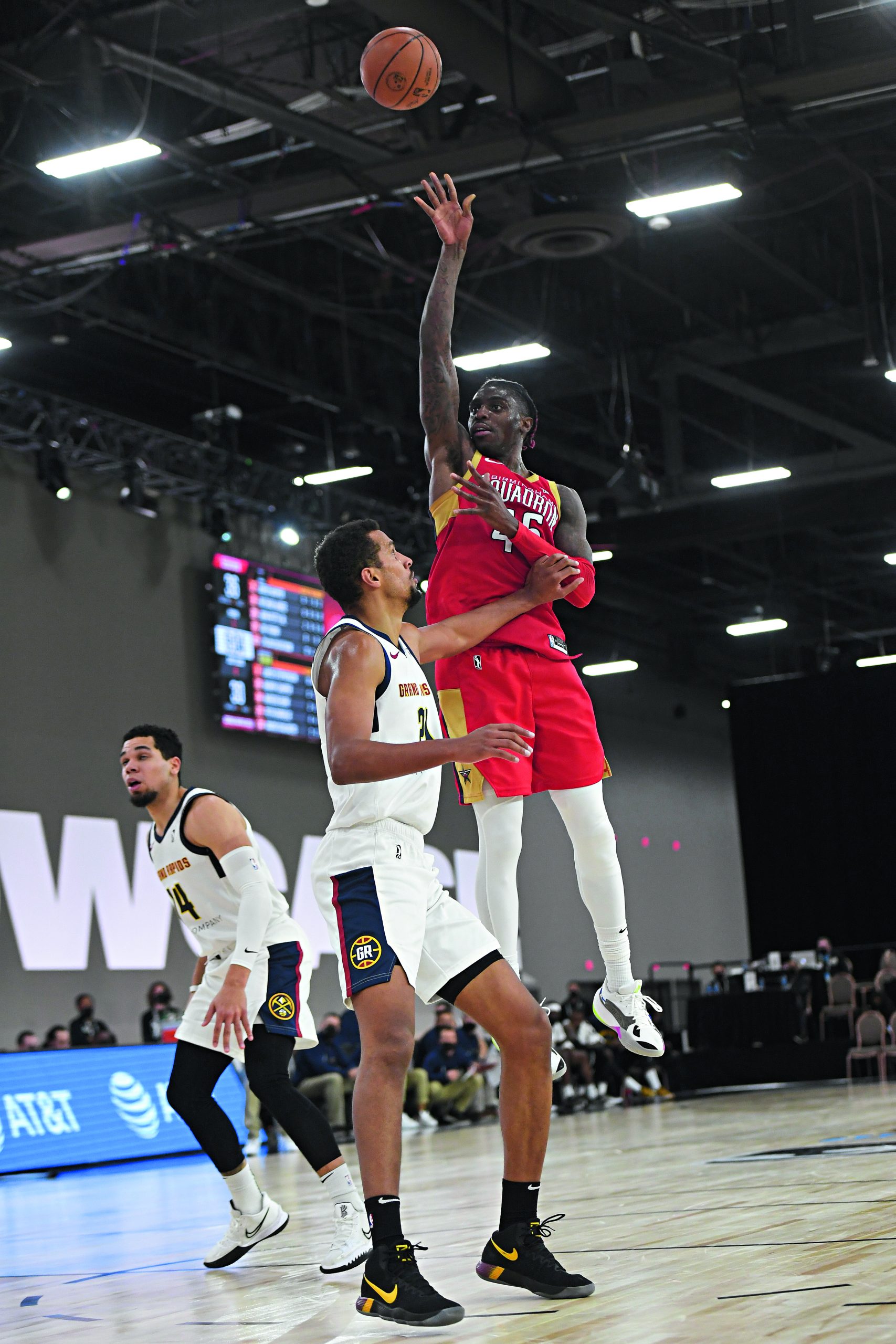 In the meantime, as Silver puzzled his options, there was a silver lining to this period of chaos: an unprecedented number of opportunities were opening up for G Leaguers. NBA teams were in desperate need of reinforcements—rosters would be full one day, then down five players the next—and naturally turning to their minor league affiliates for relief. That was exciting for G Leaguers, of course, but also tremendously nerve-racking. Clearly, no one—not even a group of healthy, vaccinated, and boosted professional athletes—was safe from catching Omicron. Forward Stanley Johnson had been called up from the South Bay Lakers to the Chicago Bulls, only to test positive and be placed in the health and safety protocols immediately.
Around the Squadron was a noticeable shift in tone: less jovial, more intense; less distracted, more focused; less jokey, more apprehensive. COVID precautions previously unenforced were now being taken seriously. Players were hanging out less, wearing masks more. Johnson, a former lottery pick, had spent significant time in the NBA already; but for those who hadn't, the idea of what happened to him happening to them was unthinkable.
At one point, Harper let out a soft sneeze during practice, and Cheatham instinctively leapt in the opposite direction. "Oh, hell nah!" he exclaimed. "Where my mask at?" He was half kidding, but the other half reflected a real concern growing among members of the team, particularly Cheatham and Young. They would not—could not—screw up a chance at the NBA because they caught Omicron.
According to the NBA's COVID protocols, players had to be sidelined at least ten days or record two negative tests in a twenty-four-hour window before returning. Decimated organizations—such as the Bulls, who, with ten players and several staff members infected, saw two of their games postponed—had begun handing out ten-day contracts. Capitanes forward Alfonzo McKinnie was another to receive a deal from Chicago, shortly after his back-to-back dominant performances against the Squadron at Legacy Arena.
During a typical NBA season, teams aren't permitted to issue ten-day contracts until January 5. The deals that players like McKinnie were signing required a "hardship exception," granted to teams that had a player in the health and safety protocols or at least four players out with long-term injuries.
Though ten-day contracts generated little media buzz—especially in years unaffected by COVID—and didn't guarantee even a second of playing time, G Leaguers cherished them. Signing one was a realization of the NBA dream. "To spend any time in the NBA is a blessing," Cheatham had once said—even just ten days.
The compensation made those ten days even sweeter. The value of a ten-day contract varied based on previous NBA experience, but most players were paid more than double what they received for an entire G League season, sometimes triple or quadruple. Stanley Johnson, for example, was guaranteed over $120,000 when he signed his ten-day deal with the Bulls.
Suffice it to say, the stakes at the annual Showcase were always exceptionally high. About a dozen representatives from every NBA team would be in attendance, and production on the court wasn't the only factor they took into consideration. Somebody was always watching, lurking around the slot machines and roulette tables, taking mental notes.
"NBA teams are not looking for a reason to sign you. They're looking for a reason to not sign you," Pannone told the Squadron. "There's a plethora of players." More than three hundred were playing in the G League alone. It was difficult for NBA scouts to narrow down their lists, so they were constantly searching for an excuse to cross a name off, like college admissions officers combing through an endless stack of near-identical applications.
Instead of extracurricular activities, scouts nitpicked at factors like nutrition. At Showcase, it was unwise to be seen eating or carrying anything unhealthy. No Twix bars, which Harper liked to eat before games (a curious superstition since his college days at Auburn). No Monster energy drinks, which Young liked to use for a boost before practices. No Subway, Nathan's Famous, Pan Asian Express, Bonanno's New York Pizzeria, or Johnny Rockets, all of which were right outside the convention center where the games would be played.
"Somebody tell me what Travis Stockbridge looks like," Pannone said.
Crickets.
"Somebody tell me who Travis Stockbridge is."
"I assume he's affiliated with the league?" Cheatham mumbled.
Stockbridge was the general manager of the Rio Grande Valley Vipers and a basketball operations coordinator for the Houston Rockets.
"It's the perfect example of 'You don't know who the fuck these guys are,'" Pannone said. "You don't know what they look like. You would have no idea he's out there. You don't know who the fuck he is. And you don't know who any of these guys are from the NBA. Every time you think you're not being watched, you're being watched. Somebody is there. Somebody is going to see and watch everything you do. They are going to judge everything you do."
"These are little things, but we talked at the beginning of the year about million-dollar decisions," Campbell added. "At Showcase, all of those things are heightened. Every decision you've made from training camp until now has been a million-dollar decision. At Showcase, everything is magnified. Every single thing you do is magnified. They may be like, 'Oh man, I remember Joe Young from the Pacers. Why does he have a Chick-fil-A bag?' All those little things that you don't think matter, they matter to someone else."
And because of Omicron, there were far more "little things" to consider. Forgetting to wear your mask could cost you millions. Inviting someone to your hotel room could cost you millions. Playing a hand of blackjack could cost you millions. Having dinner with a large group of friends could cost you millions. Wandering aimlessly on the Strip could cost you millions.
"Any kind of infraction that they see is not going to be a slap on the wrist," Campbell continued. He hated lecturing the team but knew, in this case, it was necessary. He desperately wanted to see Squadron players get called up in the ensuing weeks. To give them a chance, however, they had to hear this message. And they had to hear it clearly. "It's literally going to be, you are out of the bubble. Period. There will be no, 'Can you call Marc? Can you call the league?' If they see you doing this stuff, there is no may about it, they will absolutely kick you out."
The locker room was silent as players digested this new information. Showcase was going to look and feel a lot different than what they had anticipated at the beginning of the season. Some had questions. The protocols were vague, and guys were nervous about mistakenly breaking a rule.
"What about Uber Eats?" Cheatham wondered.
"They do not specify, but that should be no problem," Campbell replied.
Harper wanted to know if he could go to a private gym—alone—to get shots up. His request was reasonable, especially considering that after practice in Birmingham today—a Thursday—guys wouldn't have official court time until 5:00 p.m. PT on Saturday, when they would have merely an hour to go over their game plan for Sunday.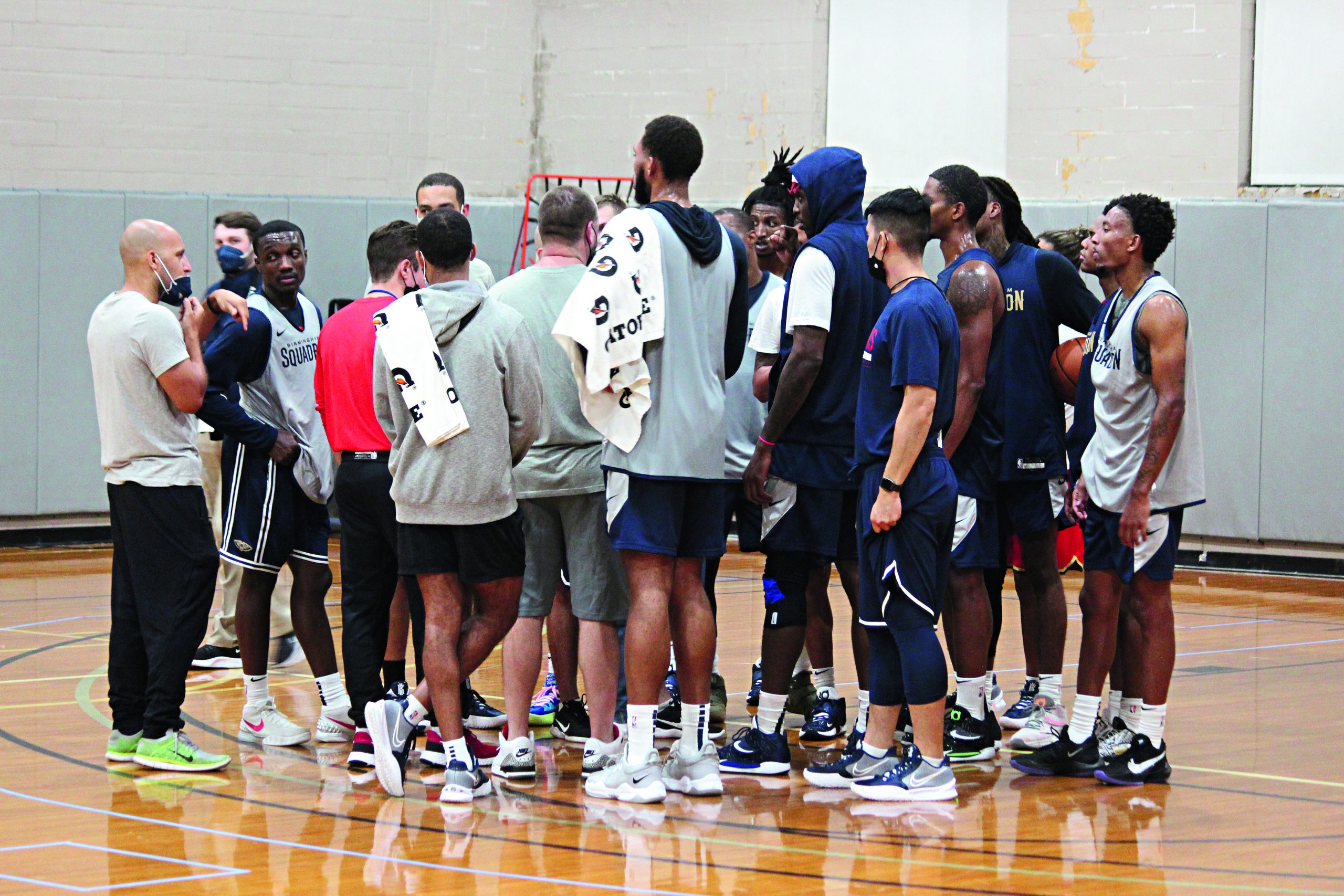 "We have asked about having a site for y'all to shoot," Campbell said. "This morning—like, literally ten minutes ago—they said that they would strongly, strongly, strongly recommend that you do not have a team practice off-site."
"If you go individually to shoot . . ." Pannone shrugged, implying that it shouldn't be an issue. "I know some of you guys have got connections to get into a gym. It's like going out to eat. From my understanding, as long as you're not at a bar or a nightclub, going out gambling, going to a concert where there are a bunch of people, that's on you guys. But from today at 2:00 until 5:00 on Saturday, that's a lot of time without getting in the gym and shooting—just so you guys know that."
It was a big adjustment. Given the significance of Showcase, it was a frustrating one too. All the players liked to get up extra shots outside of practice. In Vegas, that wouldn't really be possible. For stars like Harper, who was already on the radar of multiple NBA teams, having to change routines now seemed unfair.
Everyone was having to adjust, though. By the morning of December 16, the whole world was adjusting to Omicron, and the G League was no exception. Showcase would create an environment about as anxiety-inducing as imaginable, but if players adhered to the rules, stayed out of trouble, and took care of business on the court, it also presented the best chance they would ever have to reach the NBA.
"You gotta know what's at stake," Cheatham said after practice. "My mindset going into Showcase is just consistency. I want to stay with all the things that I've been doing. As a team, stay with all the things that we've been doing. Don't get out of character. Don't try to do too much. Just play the game I've been working hard at damn near my whole life."
Such was the cruel irony of the G League. A damn near lifetime's worth of work could come down to three days—three very unusual days—at the Mandalay Bay Resort and Casino in Las Vegas.
---
Excerpted from Life in the G: Minor League Basketball and the Relentless Pursuit of the NBA by Alex Squadron by permission of the University of Nebraska Press. ©2023 by Alex Squadron.
The post 'Life in the G': Alex Squadron's New Book Gives an Inside Look at the G League and the Relentless Pursuit of NBA Dreams appeared first on MORE FROM WSLAM.