Growing up in New York City, Rich Kleiman dreamed about one day working in the sports business world. But the truth is, he didn't know much about it.
The questions that he craved answers to weren't really being discussed.
What comprised certain deals? Who was making them and why? How did companies interact with athletes? How did athletes go about creating their own brands? The list goes on.
There was nowhere to easily find that information. To the extent that it was covered at all, it was in publications aimed at those already a part of that world; but to the average consumer or a kid like Rich dreaming of a future in the field, it remained largely a mystery.
Kleiman kept his dream alive up until the day it came true. After a successful career in the music industry, he helped launch Roc Nation Sports and now manages NBA superstar Kevin Durant. Kleiman is also the co-founder of Thirty Five Ventures, which serves as the umbrella for his and KD's business endeavors. The company, which incorporates an investment portfolio and charity foundation, also has a creative development arm. That's where The Boardroom fits in.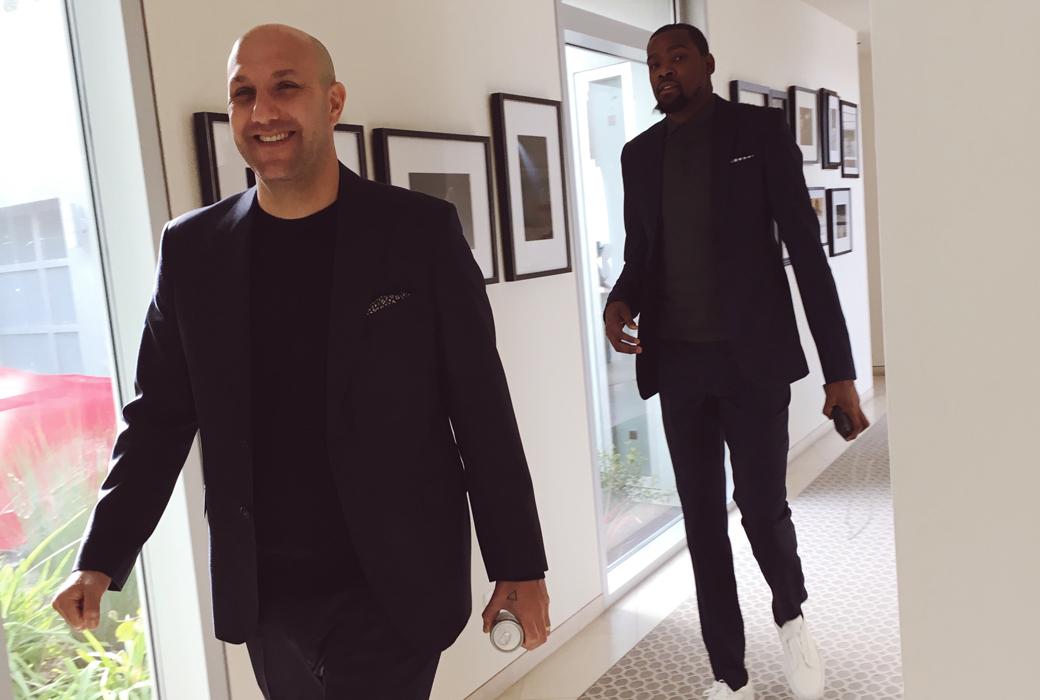 "About two years ago, Thirty Five Ventures had started to come into shape. We were doing quite a few media projects on different networks. We were starting to work more actively with brands, and we had a pretty robust venture capital fund that we started," Kleiman says. "I had always wanted to create a platform of some sort and we didn't really know what it was."
At 2018 All-Star Weekend in Los Angeles, the idea finally hit him.
From his own experience, Rich knew three things: 1) that fans were interested in a particular aspect of the sports world that wasn't very accessible; 2) that there was a path to enter this world that most people weren't able to see; and 3) that athletes themselves were becoming more embedded in this world as time passed.
In his mind, Thirty Five Venture's new platform would highlight the intersection of sports, business and culture, taking its audience inside the boardroom.
"I called Kevin from a party I was at in LA," Kleiman explains. "I said, 'I want to do this platform and I already have the name, it's The Boardroom. And I already think Jay Will should be the host.' Kevin was like, 'I love it, man. We gotta do it. We have to do it.'"
"I got on the phone with Rich and I had already been moving in this direction, so I thought it was very ironic," Jay Willams tells SLAM. "I was doing a lot of these focus groups about what it means to be involved in sports business and what the new age athlete looks like."
The concept was pitched to ESPN, resulting in the production of a show for ESPN+ hosted by Williams. Each episode zeroes in on a unique facet of the sports business landscape, from player development to league fashion to free agency to the sneaker game. Through two seasons, guests have included superstars like LeBron James and Tina Charles, rappers like 2 Chainz, analysts like Stephen A. Smith, CEOs like Jack Dorsey and franchise owners like Steve Ballmer.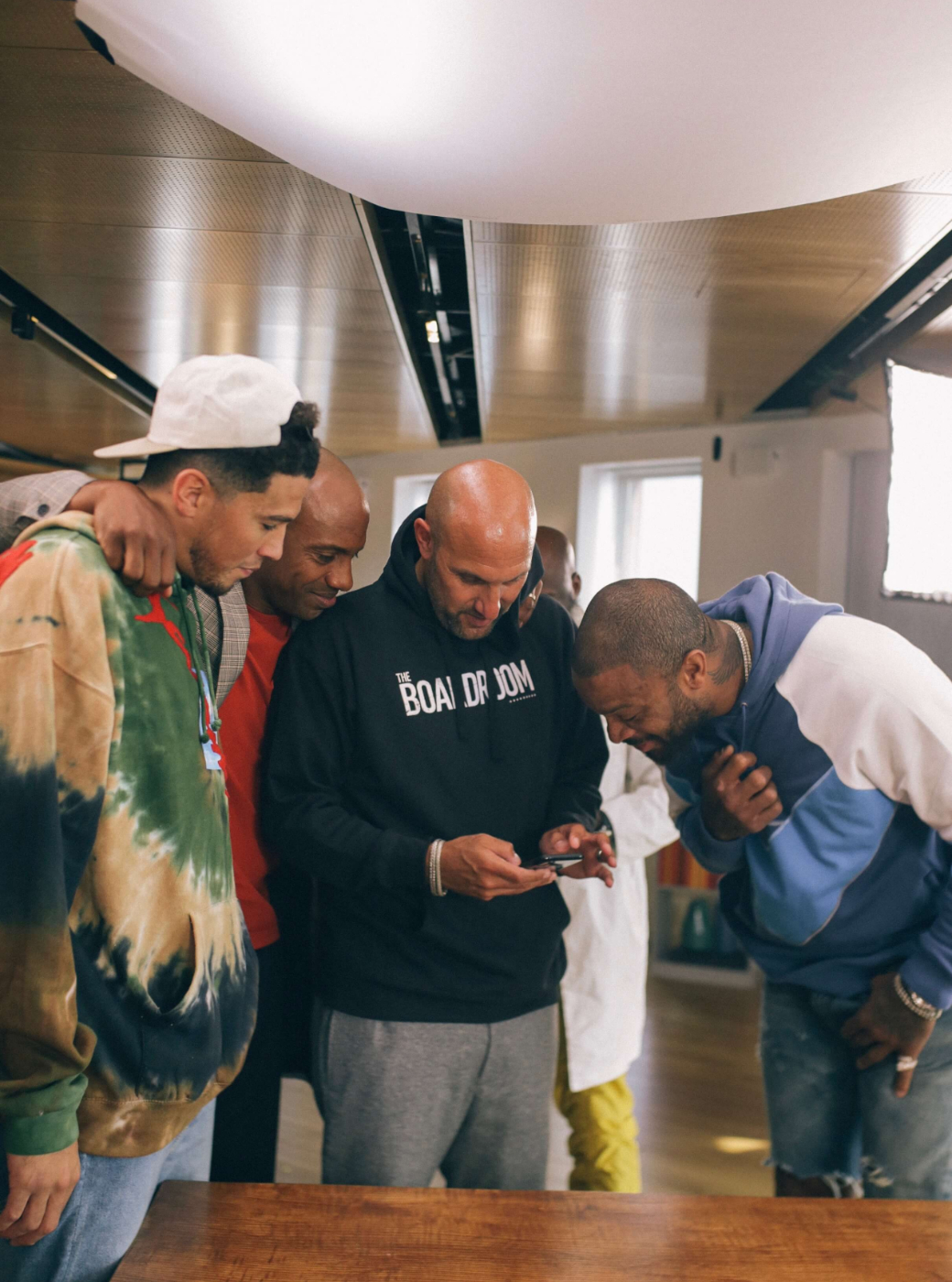 Yet Rich's vision wasn't merely to start a television series. It was to create a holistic media platform, one that delivers consistent content in a variety of ways—and, importantly, in ways that are reachable and not overly difficult to understand.
So every morning at 10:30 a.m., the minds behind The Boardroom connect on a conference call. They break down past decisions and outline for the future. They hit on pressing issues: procuring interviews, establishing a voice, organizing assets, starting a TikTok, overall social media presence, what's trending and more. Kleiman and Durant speak one-on-one daily about content strategy, with KD presenting essential feedback and direction.
"We're all workaholics," says Williams. "This isn't something where we just say, Hey, we're going to throw it together. We're constantly ideating on what is next for our brand and how do we keep our brand relevant."
"We have our social media properties that will do everything from showing old, vintage and classic sports commercials to doing polling and infographics," Kleiman describes. "We do Twitter Q&As with people like Mark Cuban and Adam Schefter and different athletes. We create short form digital exclusives that live on theboardroom.tv, as well as all of our social properties. Those are one-on-one interviews that either I will do, Jay Will will do, or we just added Ros [Gold-Onwude] to the equation. We have a newsletter that's a snapshot of that week and [gives] our perspective on what went on."
The Boardroom has continued to produce content throughout the coronavirus pandemic, determined to be a positive distraction and outlet for people. The fact that sports leagues are suspended also means that athletes are exploring other interests and diving deeper into the business world. Thirty Five Venture's platform caters to those types of conversations, as opposed to conversations regarding stats, matchups or rankings. For example, No. 1 pick in the 2020 WNBA Draft Sabrina Ionescu spoke to Ros about expanding her brand and negotiating endorsement deals; Warriors GM Bob Myers walked through his career path with Kleiman; Danilo Gallinari openly discussed contracts and how he's been studying the CBA agreement; CJ McCollum spoke to Jay Will about NBA guys managing their money.
According to Williams, athletes today are far more conscious about business opportunities and building personal brands compared to when he was playing. The Boardroom is also a valuable useful resource for them—to learn how their peers and competitors are operating in different markets.
"It's more of a holistic approach that I see the new age athlete taking with their brand and also what their brand stands for from an earlier age," Williams says. "If anything, I think what we're trying to promote with The Boardroom is that this process needs to start at a lot earlier of a stage."
The increasing convergence of sports, business and culture means that The Boardroom has more and more to tackle. They've got big plans for growth, including a podcast network that's coming soon and will feature Durant.
"I want [The Boardroom] to become a major voice in the world of sports and entertainment," says Kleiman. "We do it for fans and young people that want to be in the sports business like I did when I was 12, 13, 14 all the way up until I was able to get into it. We really do give true information and have incredible perspective and access to what's going on. We just don't deliver it in a way in which it won't relate to the regular sports fan."
—
Follow The Boardroom on Twitter and Instagram.
Alex Squadron is an Associate Editor at SLAM. Follow him on Twitter @asquad510.
Photos via Thirty Five Ventures.