Why the future remains unclear for Vikings' Dalvin Cook, Za'Darius Smith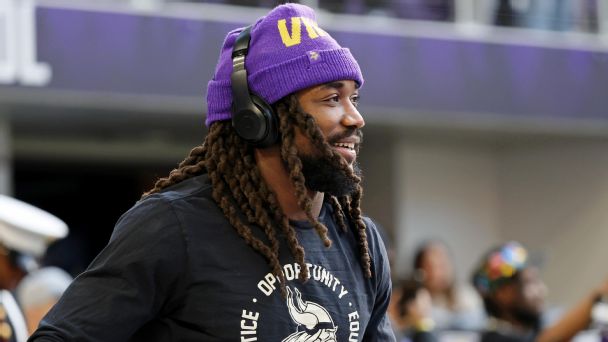 Whether by design or coincidence of calendar, this is the time of year when NFL teams shift into intense draft mode. They've largely cleared their roster of the debris from the previous season, taken their big swings in free agency and can identify their priority positions in the draft.
The Minnesota Vikings are not quite there yet. Their long action list is still in progress, a position that remains evident here in the final days of March. Even after a total of 30 player moves, including the loss of five 2022 starters and the acquisition of seven unrestricted free agents, there are some significant decisions yet to be made.
"Everything still seems to me to be a plan that is in motion," coach Kevin O'Connell told reporters this week at the NFL owners meeting. "There's a lot of things that are still ongoing. Kwesi and Rob [general manager Kwesi Adofo-Mensah and executive vice president of football operations Rob Brzezinski] have done a great job getting us under the salary cap, still giving us a clear-cut goal of what we want to get accomplished this offseason, but at the same time, understanding we can only control what we can and we want to push forward knowing we've got a chance to build on our football team."
If that assessment sounded vague, it's probably because O'Connell wanted to steer clear of the unresolved issues. At midweek, the Vikings had the NFL's lowest available salary cap space ($1.7 million), according to ESPN's Roster Management System. The team could add more space without making substantial roster changes, but that doesn't mitigate the relevance of at least three problem spots that seem destined to be addressed.
Running back
From the outside, there were plenty of reasons to believe that Dalvin Cook's six-year tenure with the Vikings would end this offseason. As he approached his 28th birthday, and having surpassed the 1,500-touch landmark in his career, Cook was due to count $14.1 million against the cap and earn $11 million in cash.
Adofo-Mensah, meanwhile, is the NFL's first general manager with a background as an analytics staffer, and there is nothing efficient about paying those numbers to an aging running back.
But as we noted in January, Cook's situation is complicated — and that was before he decided in February to undergo surgery to repair a chronic shoulder issue. The net effect of that decision was to scuttle any plans the Vikings might have had to trade or release Cook before March 17, when his contact called for $2 million of his base salary to be guaranteed.
But everything the Vikings have done since has followed the path of a team that isn't planning to have Cook on its roster this season. Most notably, they re-signed his backup, Alexander Mattison, to a two-year deal that fully guarantees him $6.35 million. That includes $2.75 million in 2024, making him the only player the Vikings have signed this spring to get full guarantees in a second year.
That isn't necessarily top-end running back money, but it's much more than you would expect any team to give to a backup to play behind a starter who rarely came out of the game last season. And after signing fullback C.J. Ham to a two-year extension, one that gave him a $500,000 raise in exchange for lowering his 2023 cap number by about $1 million, the Vikings have the second-most cash committed to the running back position in the NFL ($19.960 million). That total trails the San Francisco 49ers, whose deals with tailback Christian McCaffrey and fullback Kyle Juszczyk help push their sum to $19.997 million).
It's always possible the Vikings see value in a similarly stacked backfield. O'Connell has spoken several times this offseason about improving the efficiency of the running attack, and the decision to sign backup tight end Josh Oliver — whose strength is run blocking — on the first day of free agency provided some evidence of that intent. But the Vikings haven't yet offered a public explanation of why they re-signed Mattison with Cook still on the roster, and that's not an accident. Based on everything that we've seen, and what has gone unsaid, it's almost impossible to believe that Cook will remain on the roster at his current numbers. He'll either accept a significant pay cut, get traded or be released.
Edge rusher
The Vikings have addressed this position in a similar way to their offensive backfield: They signed a potential replacement before carving out his likely spot.
Last season ended with the team's top two outside linebackers on opposite tracks. Za'Darius Smith, playing through a knee injury, recorded 8.5 sacks in the first seven weeks of the season but managed only 1.5 sacks thereafter, while Danielle Hunter finished with 7.5 of his 10 sacks in the final 10 games.
If you were looking for places to create salary cap space, both Smith and Hunter would have been obvious candidates.
Trading or releasing Smith before March 20 would have created $12.2 million in cap space, while extending Hunter's contract would have significantly brought down his $13.1 million cap number for 2023.
But the Vikings have done neither, even after Smith tweeted what appeared to be a goodbye message on March 9, and now Smith's $9.45 million base salary has been fully guaranteed. In the meantime, they signed free agent pass-rusher Marcus Davenport to a deal that seems too big for a backup; the Vikings fully guaranteed him $10 million on a one-year deal that could rise to $13 million in 2023.
At the moment, Davenport is guaranteed to earn more than Smith or Hunter in 2023. (Because of a 2022 adjustment, Hunter's deal calls for him to receive $5.5 million in cash.)
When he spoke to Minnesota reporters after signing his contract, Davenport said: "Honestly, I don't know how I'm going to fit yet." Again, that isn't by accident. While it's not entirely out of the question that the Vikings envision a three-man rotation at edge rusher, with Davenport an upgrade over D.J. Wonnum, it sure seems likely that there is more to come at this position.
Cornerback
Four players made the majority of starts for the Vikings last season: Patrick Peterson (17), Chandon Sullivan (10 at nickel), Cameron Dantzler (nine) and Duke Shelley (five). None is on the roster as of this week.
Peterson signed with the Pittsburgh Steelers, Dantzler was waived and claimed by the Washington Commanders, Shelley signed with the Las Vegas Raiders, and Sullivan remains a free agent.
So even though they signed free agent cornerback Byron Murphy Jr. to a deal that will pay him $8.7 million in 2023, there are still multiple holes to fill. O'Connell praised the work of 2022 draft picks Andrew Booth Jr. and Akayleb Evans as they recover from injuries that ended their rookie seasons, but it does not appear the Vikings plan to count on them alone.
"We know we need to add via through the draft or potentially through some other veterans," O'Connell said. "We need to add some more numbers in that room."