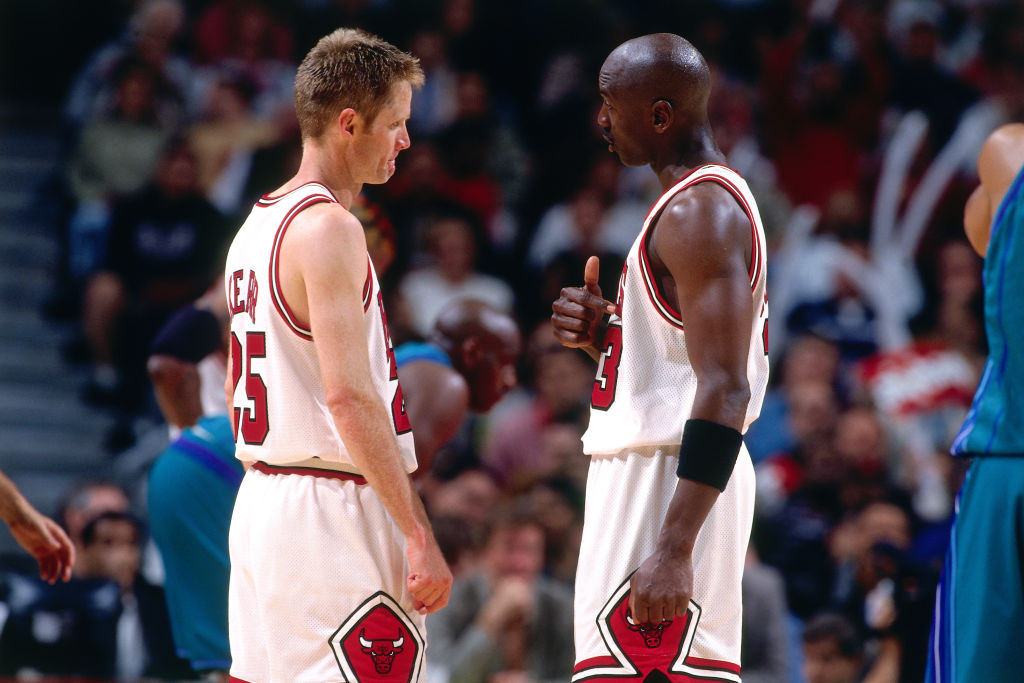 Getting punched in the face by Michael Jordan during a heated Chicago Bulls training camp ahead of the 1995-96 season strengthened their bond as teammates, according to Steve Kerr.
"I feel like I kind of passed the test," says Kerr, adding that he earned MJ's trust after refusing to back down during their tussle.
Kerr notes that teammates coming to blows was not uncommon during his playing days.
Per USA Today:
"I would say it definitely helped our relationship, and that probably sounds really weird," Kerr said on "The NBA on TNT" Wednesday night. "I wouldn't recommend that to anybody at home. … For me in that case, Michael was definitely testing me, and I responded. I feel like I kind of passed the test and he trusted me more afterwards."

In [Phil] Jackson's book, "Eleven Rings," Jordan is quoted explaining how the fight with Kerr helped him trust teammates: "It made me look at myself, and say, 'You know what? You're really being an idiot about this whole process.'"

Kerr explained Wednesday how the fight was less severe than it might sound in today's game.

"It has to be understood in the context of intense competition," Kerr said. "One thing that was more prevalent back then than now was the intensity of practices vs. now. I think we're smarter now with preserving our players. We don't have as many practice days. It's more about rest and recovery. They were a huge part of the Bulls and Michael setting a standard for our play. There were practice fights on every (NBA) team that I played on. It wasn't really a huge deal in the grand scheme of things."
Related Steve Kerr: 'Nobody Resented' Scottie Pippen for Delaying 1997 Surgery