Shareef Abdur-Rahim on the Impact of the 1996 NBA Draft
This story appears in an entire magazine dedicated to the most iconic draft class ever. Get your copy here.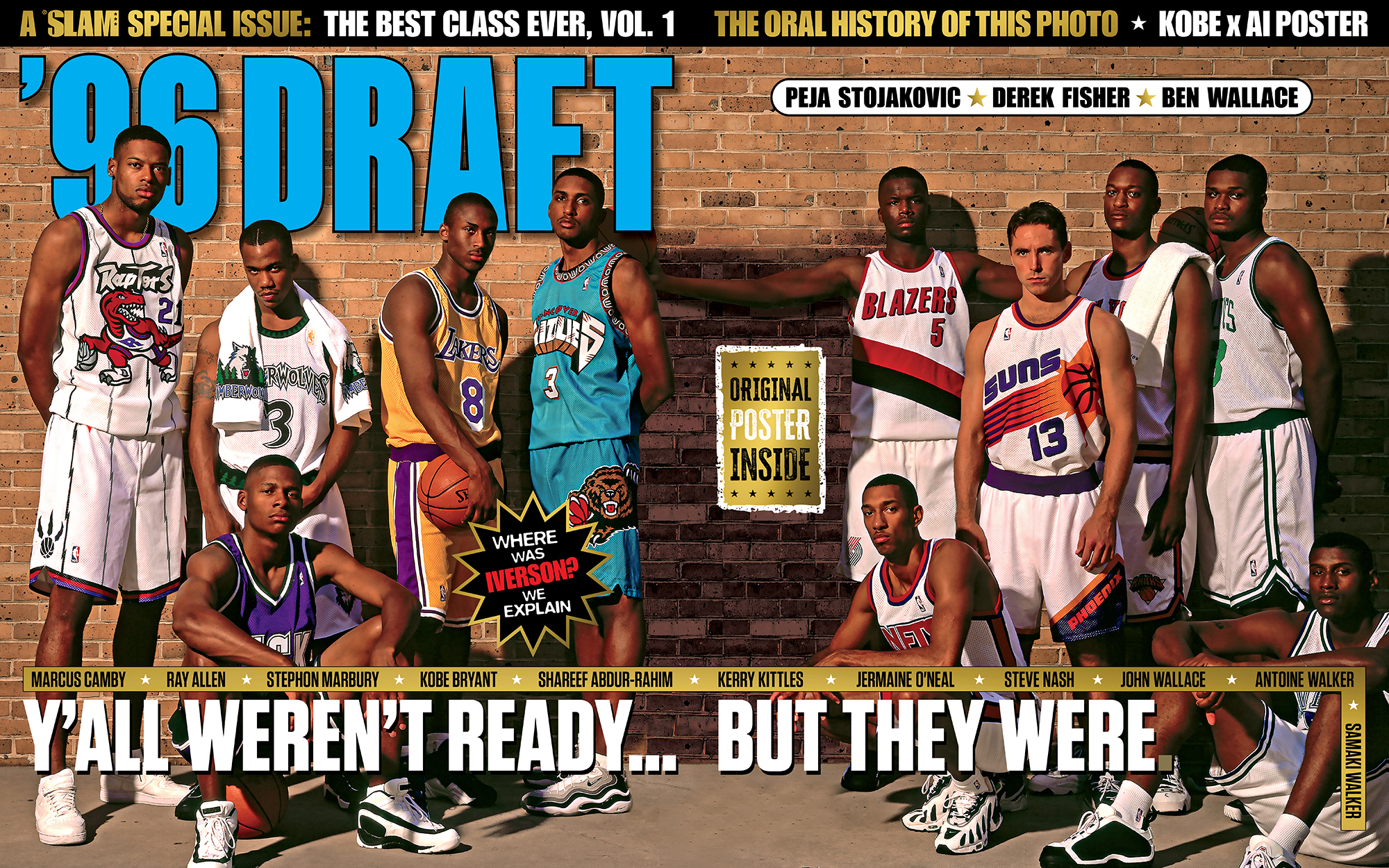 It's the summer of 1994 and Shareef Abdur-Rahim is standing in line waiting to use a public payphone in Teaneck, NJ. The then rising HS senior had just finished another day at the legendary ABCD Camp—which was at the time widely regarded as the most star-studded invite-only high school basketball camp for elite recruits—and was now looking forward to calling his parents to tell them about how well he played earlier that day.
Unlike today, where parents can just check social media to follow their kids' performances at tournaments and camps, it was all just word of mouth back then. And because smartphones weren't a thing yet, all the campers had to wait in line as they took turns using payphones to call home.
As Abdur-Rahim eagerly awaited his turn, the kid in front of him was taking what felt like forever.
"I remember being behind him and thinking, Come on, man, get off the phone!" he recalls. That kid in front of him, taking forever as he bragged to his parents about the day he just had, would go on to be known worldwide as the Black Mamba. Kobe Bryant.
Abdur-Rahim continues: "And [Kobe] telling, which had to be [his father] 'Jellybean' or his mom, [about] the day he had and how excited he was. And at the time it didn't mean anything. It was just a young kid. It wasn't Kobe. It was just the kid that's younger than me on the phone, excited about the day he had. It wasn't until years later that you start remembering different things…I wanted to call my mom and tell her how I did. It was always interesting because by the time you called home, all the college coaches had already called and updated your parents.
"I didn't know Kobe going into [ABCD Camp]. I had not heard his name; didn't know him. I could remember having a good day in camp [though]."
The now-defunct camp, which was held on the campus of Fairleigh Dickinson University in the Garden State, featured many of the players that year that would eventually make up the historic draft class of 1996—including Kobe and Stephon Marbury, among others.
But whereas today all of the top recruits know each other thanks to social media (or at the very least know of each other due to the plethora of media outlets that cover high school hoops and the gazillion of mixtapes out there), and most even build up strong connections despite living on opposite ends of the country, that was not the case back in the '90s. High school basketball was not as heavily covered nationally and highlight mixes were not even a thing. When you also factor in the telecommunication restrictions of the times, it's understandable why top recruits like Kobe and Shareef did not really know each other or their respective games back then.
It was at this camp in 1994, though, where a good portion of the top names in the 1996 NBA Draft class really got to see each other play for the first time. And for Abdur-Rahim, it was here where he began solidifying his name among the best in the nation, which ultimately helped pave his way to the NBA a couple of years later.
One of 13 siblings growing up in Marietta, GA, Adbur-Rahim was surrounded by a close-knit family that was also competitive and athletic. One of his brothers hooped at the University of Detroit, while another played collegiately at Southeastern Louisiana University. His father was an imam, and Shareef grew up as a devout Muslim with strong values and guidance that he would carry well into his professional career.
"I thought it gave me a good foundation and base. I always had something pulling at me, calling me to a stronger or higher purpose. So I think the commitment and discipline helped me a great deal in my career in getting better. Obviously, it gave me a purpose of something that was bigger than basketball," he recalls. "We were always reminded of that. Even in what you wanted to achieve. You wanted to achieve things for some purpose beyond just yourself. That was always a motivating factor for me."
He ultimately opted to go across the country for college, choosing Cal Berkeley, where in his one season in the Pac-10 Conference (now the Pac-12) he became the first freshman in league history to win Conference Player of the Year honors. He also set single-season freshman records for points, scoring average, field goals and free throws, ultimately leading the entire conference in scoring with averages of 21.1 points and 8.4 rebounds. Despite all of the accolades and success in his first year, Abdur-Rahim actually withdrew his name from the draft boards in late May after having second thoughts about leaving school. He initially cited wanting "to stay a kid" during the shocking announcement.
"I was so torn on whether to leave school or not. I didn't go with the intent to leave in a year. I really outperformed my expectations," Adbur-Rahim says. "And then I was presented with this decision. I had declared, then I had taken my name out of the draft, and then at the end it was so obvious that I had to leave for myself and for my family and so I put my name [back] in the draft. I didn't do the Chicago combine or anything."
He ultimately was selected third overall in the 1996 NBA Draft, picked right after Allen Iverson and Marcus Camby. Unfortunately for him, though, while many of his draft class counterparts were joining established franchises, Abdur-Rahim was drafted by a one-year-old expansion team in Canada. The Vancouver Grizzlies, who had joined the League the year prior, were as far as he could possibly be from his home state of Georgia. The excitement of joining the League would soon wear off once he began to realize that winning in the NBA isn't easy, especially when you're a young player on a newly-added team.
The Grizzlies finished last in their division in all but one of the five seasons Abdur-Rahim spent with the organization. They eventually relocated to Memphis after six rough years. From an individual standpoint, Abdur-Rahim held his own from Day 1. He averaged a team-best 18.7 points per game as a rookie, finishing third in the ROY ballots behind Iverson and Marbury.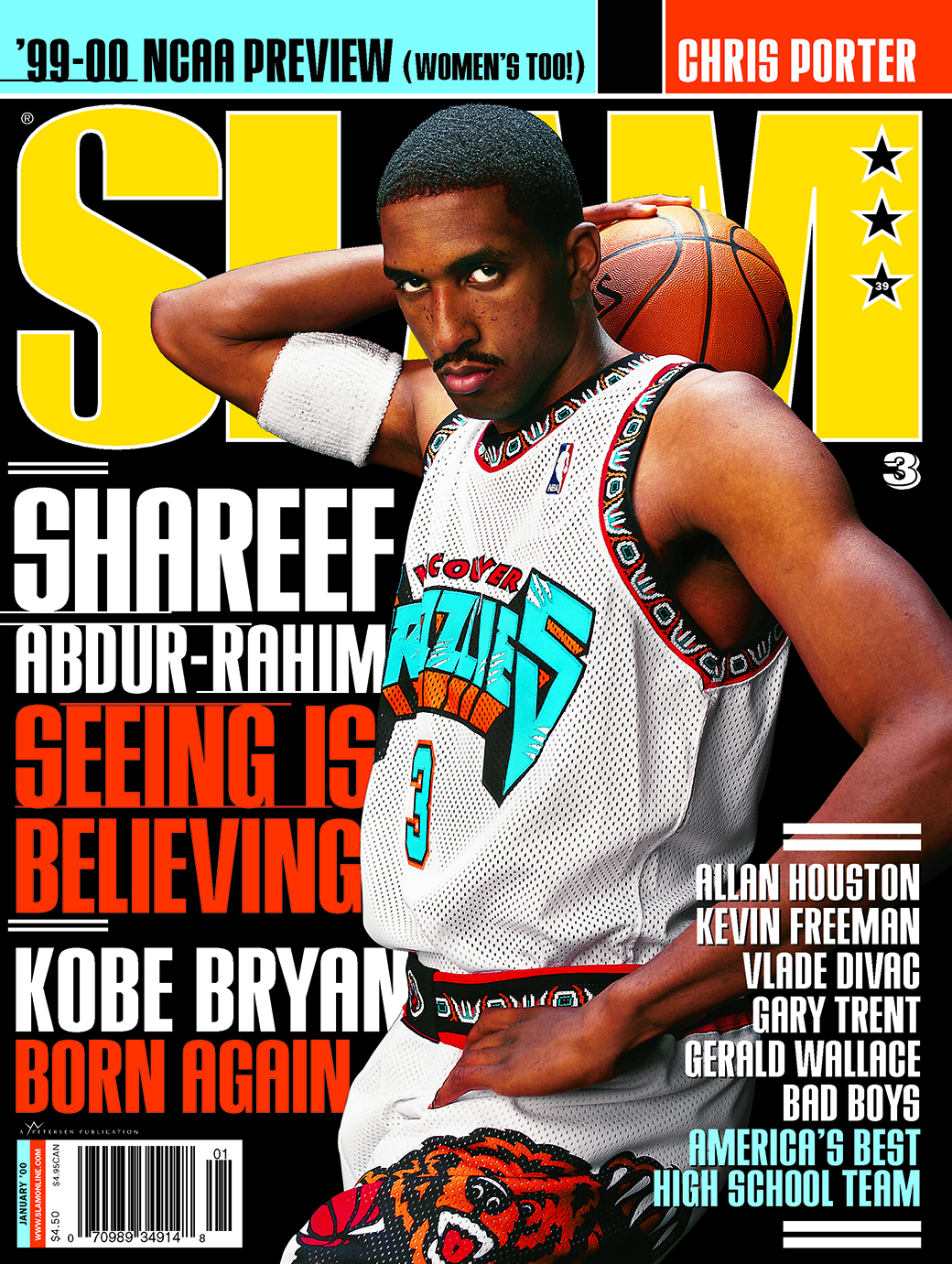 After earning All-Rookie First Team honors, he went on to average between 20 and 23 points in the following four seasons in Vancouver. But with the team unable to climb out of the bottom of the standings every season—which led to Abdur-Rahim having five different head coaches in his five years with the franchise—his production seemed to go mostly unnoticed by the rest of the League.
"I was excited to be in the NBA. I think at that time we had some guys that didn't want to come [to Vancouver]. But for me, I was just excited to be in the NBA. I remember a couple of days before the draft, I went there to visit. I remember asking my agent, Man, where is Vancouver? And since I played in the Pac-10, he was like, It's next to Seattle. And I was like, OK! Being a kid from Georgia, I never thought of or looked up Vancouver," he says. "In some ways, we introduced a country to basketball. Now, 20-plus years later, you see the effects of the NBA being in Canada.
"[Losing] was tough. That was the toughest part of my career. I won a state championship in high school. In college, we were good. [But] just getting beat like that was tough. Years later, my wife would tell me that I was no fun to be around during basketball season. You don't enjoy that part. In those years, as much as you were a part of the NBA, you don't feel a part of it because [with] all of the other special things that are going on—the playoffs—it's hard to be celebrated. It's hard to put you on national TV. So you feel a little removed. I had a great time [but] that part, especially being young, was tough. You saw the level we were at compared to other teams and you started to understand quickly that you were an expansion team and just how hard it was going to be."
Not only was he beginning his NBA career in a tough situation, he was also watching the rest of his rookie class set the bar high.
"The one thing you did do is you looked at that draft and you looked at your peers and you were trying to keep up," Shareef says. "And I think really early you could tell, Wow, we got a good group! Opening night, you see Allen getting 30. First year, as rookies, you saw Steph made the playoffs. Ray and what he was doing in Milwaukee. Quickly it picked up, just how well other guys were adapting, and you wanted to keep up. And it became harder and harder to keep up."
In the summer of 2001, Abdur-Rahim was traded to the Atlanta Hawks, a much-welcomed homecoming for him. In his first season in the ATL, he was selected to the All-Star Game. The following season, he became the sixth-youngest player in NBA history to reach the 10,000-career points milestone. No longer feeling like he was completely isolated from the rest of the League, the former Cal star was finally being recognized by the rest of the Association.
GRAB YOUR COPY OF SLAM PRESENTS '96 DRAFT FOR EVEN MORE GOODIES FROM THE ISSUE
"For college, I almost went as far as I could from home. Then I was drafted even further. Then being able to come home and be connected in my community—my family and friends being able to see me play—that was exciting," Abdur-Rahim fondly remembers. "That meant a lot to me. That was a special time."
But with the Hawks in the midst of an eight-year playoff drought, the front office opted to make some roster moves before the trade deadline during his third season with the team. He was traded to the Portland Trail Blazers, where he spent a season and a half and saw his playing time and role decrease, before getting dealt to Sacramento.
Heading into his first season with the Kings, which marked his 10th overall season in the League, Abdur-Rahim still had one dark cloud hanging over his head. He held the record for having played the most games in NBA history without competing in the playoffs. The 6-9 forward was finally able to check off that elusive goal in his first season in SacTown, as the Kings went on to face the San Antonio Spurs in the first round of the playoffs, ultimately falling in six games.
"It was so much fun. You wish you had those experiences earlier. And I remember thinking I had good years ahead of me," he recalls. "The next year, I was injured a lot. And then next year, same thing. And then I was done. I never got to experience that. Coming off that, I couldn't imagine not being in those situations again and even doing more. It's bittersweet. I enjoyed it. I loved it. That level of competition is what I miss and what the NBA is about."
As he alludes to, the following two years, he battled through injuries—mainly knee issues. And just like that, his body was telling him that it was time to move on from the game. Following the 2007-08 season, Abdur-Rahim retired at age 31 after 12 seasons.
"For me, it happened fast. Maybe I wasn't paying attention. It's not really until Sacramento when it happened. My body wasn't responding," he says. "I was getting sore, little nagging injuries. It was the end. It kind of ended quickly."
He wasn't quite sure of what to do next. The end of his NBA career had snuck up on him before he could even think about his next move. But as if fate had already decided for him, his post-playing career seemed to have chosen him instead.
"I was done. I was in Vancouver. Geoff Petrie was running the team. He and a guy named Wayne Cooper. When I told them that I was going to retire, they asked me if I would be willing to stay and coach, or help out with the team. It wasn't something that I had spent any time thinking about," Abdur-Rahim admits. "It wasn't something I was sure I wanted to do. But I was like, OK, I'll do it for this year and get basketball out of my system and then I'll go do something else. And it just took off. They were so great about just allowing me to be included in the entire organization. Just learning; everything was accessible. It was a great experience."
After initially serving as an assistant coach for the Kings, he would eventually get promoted to assistant GM and director of player personnel. In 2013, he was named the general manager for the Reno Bighorns—the Kings' G-League (D-League, at the time) affiliate now known as the Stockton Kings. The NBA office soon came calling, where he initially served as the League's associate vice president of basketball operations, before being named the president of the NBA's G-League in 2018.
Today, he is not only responsible for developing players and preparing them for the big leagues, but also for launching the historic pathway program, which sent shockwaves throughout the basketball world when it was introduced this past spring as an alternative to college and overseas for top HS recruits looking to be compensated before entering the NBA draft.
"The part that's cool is now having an opportunity to serve and contribute to the game in a different way," he says. "It's [for] players that initially may not happen for, or young NBA players that need a place to grow and develop. Our young kids that are choosing this different path. It's all of that. It's exciting and humbling to be able to contribute in a different way."
While everyone embarked on different journeys since the days of standing in line waiting to use a public payphone in New Jersey—some enjoying longer NBA careers, while others seamlessly transitioning into post-playing endeavors—for Adbur-Rahim, the best part is being able to tell his loved ones all about it.
"I'm proud to be associated with the class," he affirms. "I'm a dad. I have an 18-year-old. To have something where I could be like, Yo, I told you I was good! I'm connected to these guys! That part is cool for me. I celebrate everything that the rest of the group has done."
—
SLAM PRESENTS '96 DRAFT IS AVAILABLE NOW.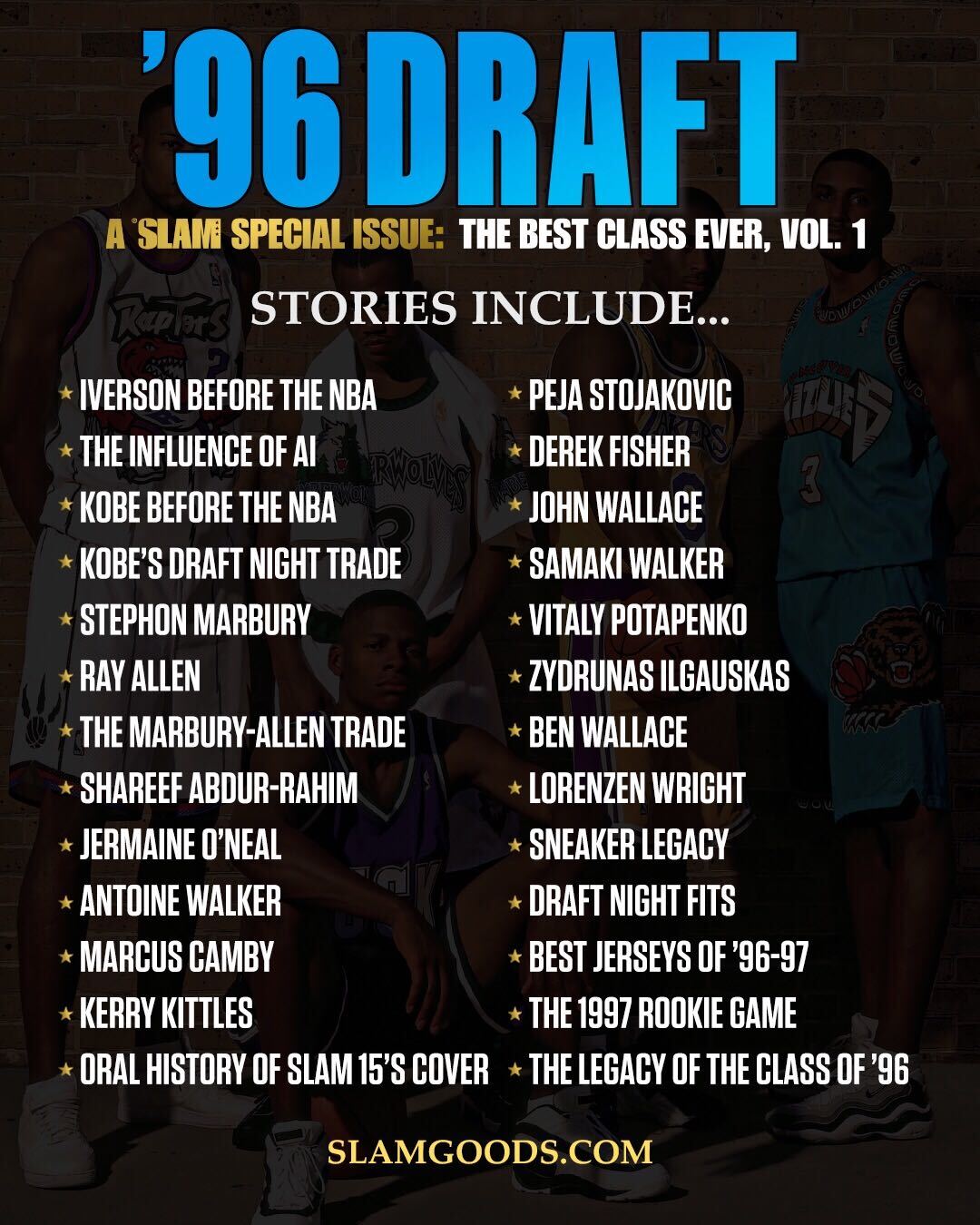 588