click to enlarge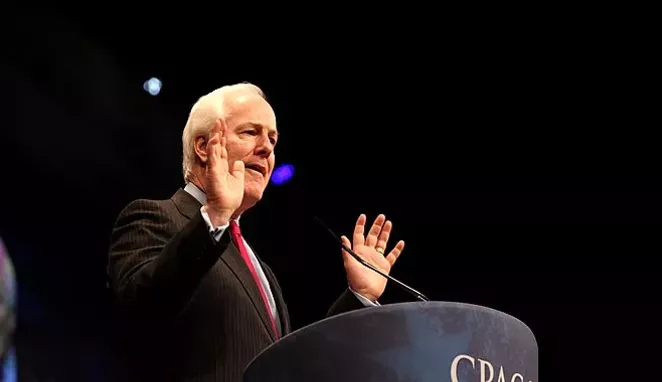 Gage Skidmore / Wikimedia Commons
John Cornyn speaks during an appearance at the conservative CPAC conference.
After angering Asian Americans for incorrectly blaming Chinese people for a host of pandemics and drawing fire from constituents for tweeting a glib joke about the coronavirus, Sen. John Cornyn's found a new group to piss off.
Scientists.
Late last week, the Texas Republican opined via Twitter that he just doesn't like all this modeling experts are doing to figure out the potential human and economic cost of the COVID-19 pandemic. "It isn't the scientific method, folks," he wrote, providing a link to the Wikipedia page on the scientific method in a high school freshman-level attempt to bolster his argument.
After #COVIDー19 crisis passes, could we have a good faith discussion about the uses and abuses of "modeling" to predict the future? Everything from public health, to economic to climate predictions. It isn't the scientific method, folks. https://t.co/OYBm3CIUxX

— Senator John Cornyn (@JohnCornyn) April 10, 2020
Scientists "responded with a mix of bafflement and exasperation" to Cornyn's assertion, as tech and research news site Ars Technica put it. Indeed, the replies to Cornyn's tweet seemed to veer from "You're wrong and here's why" to "seriously WTF?" to "Why haven't we voted this troglodyte out of office yet?"
Read couple of the more colorful below:
Sure right after we talk about how the anti-science positions of the GOP killed tens of thousands of Americans.

— Molly Knight (@molly_knight) April 10, 2020
On 11/04/20 let's have a discussion about what you'd like to do for a new career because your war on science and scientific methods is how we got here. #VoteThemOut

Register to vote Texas https://t.co/GueEJCHUva

— Dark Money🌑💰🕵🏻‍♂️ (@DarkMoneyDt) April 10, 2020
Science, you say? You cannot define the word, Senator. You're scientifically illiterate. You're in office defending the 1% & big business. You're a fraud. You're not serving the people. I'd put any average H.S. Freshman up against you in a science Q & A — Any. Day. Of. The. Year.

— Dr. Jack Brown (@DrGJackBrown) April 11, 2020
Here's the thing: data modeling gets predictions wrong, and some models just plain suck. But scientists use models all the time, building and reworking them as better data becomes available. As Ars Technica points out, "there is no science without models."
Indeed, the site was nice enough to link a famous 1964 lecture by quantum physicist Richard Feynman explaining how modeling is fundamental to advancing new scientific understandings: "First, we guess it. Then we compute the consequences of the guess to see what … it would imply. And then we compare those computation results to nature. … If it disagrees with experiment, it's wrong. In that simple statement is the key to science."
Which might explain why actual the actual medical doctors and scientists who run Metro Health for San Antonio and Bexar County announced they're releasing modeling from four different organizations to help residents better understand the current pandemic.
So, is Cornyn, who graduated from Trinity University in San Antonio and also holds two law degrees, really that fucking dumb? After all, he's also used Twitter and his speeches to downplay humans' hand in climate change.
Chances are, he's not.
As we've pointed out before, Cornyn is a political chameleon — and the current shade of his skin is a color called "Trump."
To march lockstep with our act-on-impulse, who-cares-what-those-boring-experts-think commander in chief, it's clear the senator is more than willing to play dumb on TV, on Twitter or anywhere else that helps him appeal to the president's base.
Stay on top of San Antonio news and views. Sign up for our Weekly Headlines Newsletter.