QB Jackson has requested trade from Ravens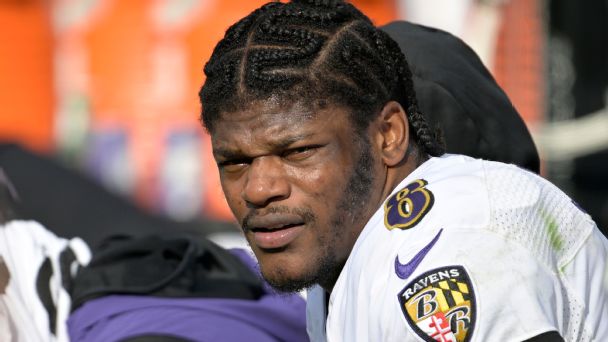 Lamar Jackson said Monday that he has requested a trade from the Baltimore Ravens as the team "has not been interested in meeting my value" in contract talks.
The star quarterback made the announcement on Twitter, saying he made the request on March 2.
"… I love the game of football and my dream is to help a team win the super bowl," he tweeted, adding that Ravens fans "are great but I had to make a business decision that was best for my family and I. No matter how far I go or where my career takes me, I'll continue to be close to my fans of Baltimore Flock nation and the entire State of Maryland. You'll See me again."
The Ravens placed the nonexclusive franchise tag on Jackson, who represents himself and is able to sign an offer sheet with another team. If there is no offer sheet, Jackson would earn $32.416 million this season if he plays under the tag. If Jackson were to sign an offer sheet and the Ravens did not match, Baltimore would receive two first-round picks.
Last week, the NFL warned teams in a memo that they are permitted to negotiate only with Jackson because he does not have an NFLPA-certified agent.
"To be clear, Mr. Jackson is not currently represented by an NFLPA certified agent," the memo read. "Violation of this rule may result in disapproval of any Offer Sheet or resulting Player Contract entered into by Mr. Jackson and the new Club."
The NFL can fine teams $47,000 if a club negotiates a contract with an agent or representative not verified by the NFLPA.
Last September, a source told ESPN's Adam Schefter and Chris Mortensen that Jackson turned down an offer from Baltimore that included $133 million guaranteed at signing, $175 million guaranteed for injury and $200 million in total guarantees if he's on the roster on the fifth day of the 2026 league year. The $200 million would rank second among all quarterbacks to Deshaun Watson (five years, $230 million guaranteed) and would surpass deals signed by Kyler Murray ($103.3 million guaranteed at signing) and Russell Wilson ($124 million guaranteed at signing) last year. Schefter and Mortensen reported in September that Jackson wants a fully guaranteed deal similar to Watson's.
Jackson's playmaking ability has made the Ravens one of the most successful teams over the past five seasons. His record of 45-16 (.738) is the fourth-best of any quarterback who debuted in the Super Bowl era, trailing only Patrick Mahomes, Tom Brady and Roger Staubach. Jackson was named the NFL's MVP after the 2019 season. The Ravens have struggled without Jackson the past two seasons, going 3-9 (.308) in his absence.
But Jackson's passing and durability have come under scrutiny. Over the past two seasons, Jackson has totaled 33 touchdown passes and 20 interceptions and has missed 11 games, including a playoff loss to the Cincinnati Bengals last season.
ESPN's Jamison Hensley contributed to this report.