PlatinumGames Releases A Demo For The Wonderful 101: Remastered, And You Can Play As Wonder-Bayonetta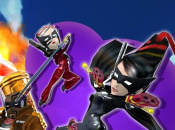 If you haven't played The Wonderful 101: Remastered on the Nintendo Switch yet, now you can finally try before you buy with a brand-new "wonder-size cadet" demo.
It will allow you to experience "about" two hours of content – including the game's prologue and all of Operation 001. Bonuses such as in-game currency and a selection of support items are available to enhance the experience and you'll also be able to transfer your save data to the full game.
In addition to this, you'll be able to play as the secret character Wonder-Bayonetta in the demo. She comes with the special Unite Morph.
As for existing players, don't worry – Platinum hasn't forgotten about you. There's actually a new update for the full game, bumping the game up to Version 1.03. This adds a "Wonderful Code" feature – allowing players to enjoy the same bonuses as the demo. These are the codes you'll need to input:
Vol.1 UMBRANGIFT – Unlocks "Wonder-Bayonetta"
Vol.2 ANGELSLAYERS – Unlocks "Wonder-Jeanne" and "Wonder-Rodin"
And here are the full patch notes for Version 1.03:
Patch details:
Added a new "Wonderful Code" feature.
Certain hidden elements of the game can now be unlocked by entering officially released codes.
Added a demo save data transfer feature.
When starting a new game, save data from the demo can be detected and transferred, allowing players to continue from the end of the demo.
Fixed a number of bugs.
Will you be returning to the remastered version or trying out the new demo? Leave a comment below.