Next DLC Update For Minecraft Dungeons Arrives On 9th December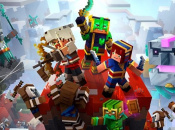 Mojang has announced its Minecraft Dungeons Howling Peaks DLC will arrive next month on 9th December.
It adds a new area, new weapons and artifacts, and of course, plenty of new enemies. It's your job to travel to the top of the mountain to take out the Tempest Golem corrupted by a shard from Orb of Dominance.
This update will also include six free enchantments, which have the potential to change the way you play.
On the same date, Mojang is releasing a season pass. This will give you access to the next four DLC packs including Howling Peaks. Each pack includes new levels, story content, and puzzles and mysteries to unlock. Buying the season pass will also give you a discount.
Will you be revisiting Minecraft Dungeons on December 9th? Leave a comment below.