More Dark Is A Puzzle-Platformer 'Intended For Adults', And It Launches On Switch This Week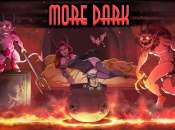 Ratalaika Games has announced that More Dark, a puzzle-platformer that launched on Steam last year, will be lurking its way onto the Switch eShop later this week.
Featuring "animated blood and cruelty intended for an adult audience", More Dark has players taking on 60 platforming levels made up of a range of puzzles and gameplay mechanics. You'll find bombs, power jump items and gravity swap items along the way to help you do just that, as well as hidden keys to find, mini-games to play, and a couple of bosses to take down.
Here's the synopsis:
After the Lord of the Other World went on vacation his leadership was temporarily taken over by his sweet daughter, Evilina.

Soon enough, well, all Hell broke loose. The prisoners of damnation have all escaped from their confinements and scattered about the kingdom, shattering the fragile peace of the devil's dominion.

As a devoted minion of Evilina, your task is to lead a battalion of demons and return order to Hell, corral the escaped convicts, and cleanse each area of chaos and anarchy. Can you save Hell, or perhaps earn redemption?
The game launches on Switch on 27th November and will be priced at $4.99 / €4.99.
Do you think this one might be a worth a go for the asking price? Feel free to share your thoughts with us in the comments.