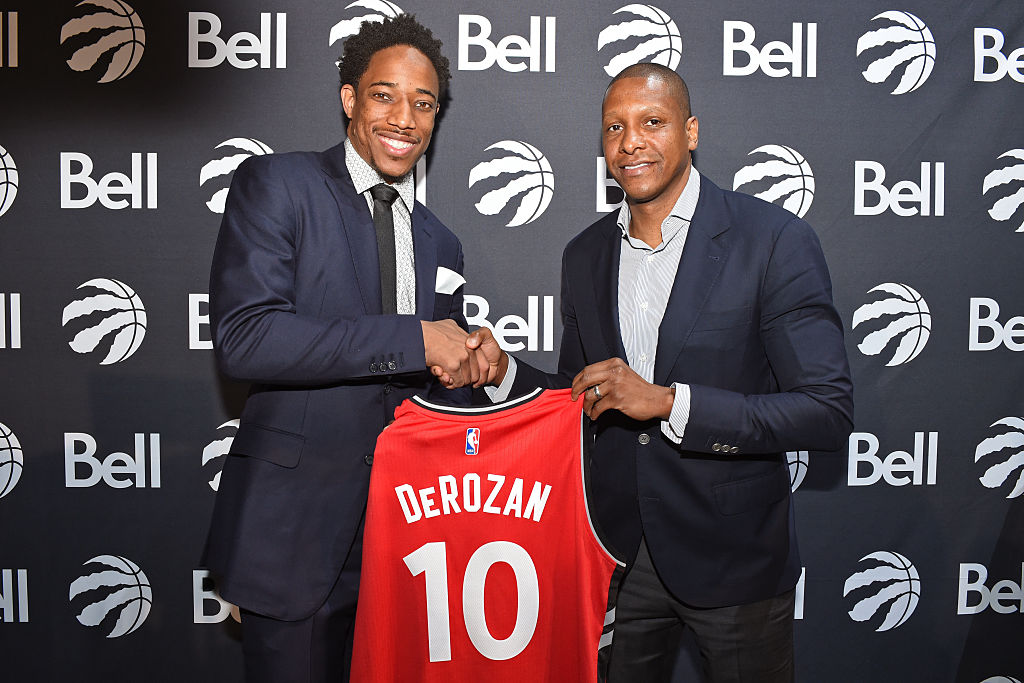 There remains "plenty of work to be done" in repairing the relationship with DeMar DeRozan, according to Raptors president Masai Ujiri.
"It's not easy," Ujiri said of his fateful decisions to trade DeRozan and fire Dwane Casey after winning a Coach of the Year award.
Ultimately, Ujiri's calls (none bigger than pulling the trigger on a one-season swap for Kawhi Leonard) helped lead Toronto to its first NBA championship in franchise history.
Per ESPN:
"It's not easy," Ujiri said of such decisions in an interview with TNT's Ernie Johnson that aired on the NBA's Twitter account. "If you have that human part of you, you feel it in your heart.

"With Casey, it has gotten so much better now with his family and him. With DeMar there is still plenty of work to be done. But, by the grace of God, it will all get better. We have to continue to make these decisions that are tough. But that's the business of basketball, and the position that we are in."

That combination of events led to a roller coaster of emotions — something Ujiri said is simply part of the job.

"I always say that the two hardest things in our world, in our business, is trading a player and then when a player leaves, if a player leaves in free agency," Ujiri said. "And it's hard on both sides. When a player is traded, it is hard on the player side, and when a player leaves, like us [with Leonard last summer], it is hard on that side. I've experienced all of it, from wonderful people.

"It sometimes puts a strain on relationships, as we saw with DeMar. People don't know even with [when we traded] Rudy Gay, I was close to Rudy. Incredible kid. Incredible kid with DeMar, where you build and you're trying to preach a culture of good, of trust, of being with people, and then you have to make this decision [to trade him]. With Kawhi, we just built a relationship where we trusted each other, and that friendship has evolved even bigger after he left, and I'm proud of that. I support him with everything he does as a human being, and his family, and you move on. You've got to move on to the next …"
Related Masai Ujiri: Raptors 'Going to Die Trying' to Defend Title