How the Chiefs will replace key starters lost in free agency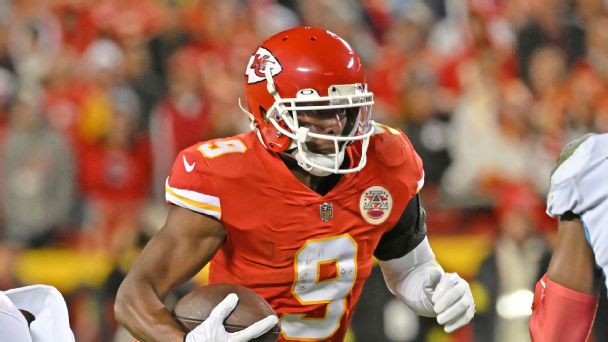 KANSAS CITY, Mo. — JuJu Smith-Schuster and Mecole Hardman are now playing for other teams, leaving the Kansas City Chiefs without two of their top options at wide receiver two weeks into free agency.
There's time for coach Andy Reid and general manager Brett Veach to replace the 103 catches and nine touchdowns the Chiefs lost from last season when Smith-Schuster signed with the New England Patriots and Hardman with the New York Jets.
Their options this far into free agency are limited, at least on the veteran market.
"He's looking at everybody and everything, but whether he moves on it or not, I can't tell you that,'' Reid told reporters of Veach on Monday at the NFL owners' meetings. "I don't know how that's going to pan out, but I know we're comfortable with the guys that we have.
"I know he'll keep adding to it. He's going to keep the competition level up.''
Smith-Schuster was the team's leading wide receiver in 2022, averaging 58.3 yards per game. Hardman averaged 37.1 yards per game — third among Chiefs wide receivers behind Smith-Schuster and Marquez Valdes-Scantling — but led the group with four receiving touchdowns.
The Chiefs have 10 picks in the upcoming draft, as they did last year when they added several rookies who contributed to the Super Bowl team. But the Chiefs have just two picks in the first two rounds, unlike last year, when they had four.
Veteran receivers like Odell Beckham Jr. and DeAndre Hopkins are available. But it hasn't been Veach's way to spend big on players over 30, as Beckham and Hopkins are.
The Chiefs began building their 2023 wide receiver corps last season. They drafted Skyy Moore in the second round and traded two draft picks to the New York Giants for Kadarius Toney.
Toney's 65-yard punt return in the fourth quarter of the Super Bowl LVII win over the Philadelphia Eagles — the longest in Super Bowl history — is indicative of the player Toney can be, though he has struggled to stay healthy in his two NFL seasons. Since the Giants drafted him in the first round in 2021, Toney has never played more than 10 games in a season. A hamstring injury kept him in and out of the lineup last season, preventing him from being a consistent target.
And while both Toney and Moore had big moments for the Chiefs last season — each scored a touchdown in the Super Bowl — Reid looked at those additions as being more for the future than the present. But he expects expanded roles from them next season.
"They'll be more familiar with the offense and so you can utilize them in different ways,'' Reid said. "Both of them are very talented, I really like their attitude towards the game and we'll just see. We'll see how that goes once we get to camp and the [offseason practices]."
The Chiefs have lost four other starters or key backups in free agency so far: Offensive tackles Orlando Brown Jr. and Andrew Wylie, defensive lineman Khalen Saunders and safety Juan Thornhill. They also released defensive end Frank Clark.
In some cases, they have what they believe to be ready replacements on the roster. But to replace Brown, their left tackle for the past two seasons, they signed Jawaan Taylor from the Jacksonville Jaguars and to fill in for Clark, they signed Charles Omenihu from the San Francisco 49ers.
In each case, the Chiefs are signing a younger player who should be heading into the prime seasons of his career. Taylor and Omenihu are both 25.
Taylor gave up only six sacks with the Jags in 2022 and posted a pass block win rate of 88%, good for 37th in the league among offensive tackles. It is a marked improvement from his play over his first three seasons when he posted an 84.5% PBWR (56th in the NFL among offensive tackles) and gave up a league-high 40 sacks from 2019-2021. His four-year, $80 million deal ($60 million guaranteed) is more than the four-year, $64 million deal ($43.5 million guaranteed) the Cincinnati Bengals gave to Brown, a four-time Pro Bowler.
The Chiefs are planning to play Taylor at left tackle even though he has played on the right side his entire NFL career.
"I feel I'm definitely able and athletic enough to make the switch over,'' Taylor said. "I'm very, very versatile so I feel I can go out and make the switch pretty seamlessly. At the end of the day, if they need me to make the switch, to switch over and play other positions, I'm open to doing that. I'm just here to try to help this team win championships.
"Left tackle, right tackle, it's just a flip of the hips. Honestly, other than that, if you're athletic enough and you trust your feet and you've got great coaching as well . . . I feel like the transition will be pretty good.''
Omenihu will replace Clark, whose 13.5 career postseason sacks are third all-time, trailing only Willie McGinest (16) and Bruce Smith (14.5). In the regular season, however, Clark never had more than 39 total tackles (2022) and 8 sacks (2019) with the Chiefs. Clark arrived in Kansas City in 2019 after a career season with the Seattle Seahawks in which he posted 14 sacks and 42 total tackles.
And while Omenihu will have big shoes to fill, he'll line up alongside another player who is putting together an all-time resume of his own in Chris Jones. Omenihu was mostly a situational pass rusher in his four NFL seasons with the 49ers and Houston Texans but will be a regular with the Chiefs. He posted a career-high 20 total tackles and 4.5 sacks last season.
"I can rush inside, I can rush outside, I can rush over center,'' Omenihu said. "Whatever you need me to do I've shown I can do it throughout my career. Versatility is what I bring to the table, a guy that's going to play hard. I want to stuff the run because I know when you play the run well you're going to have some fun rushing the quarterback.''