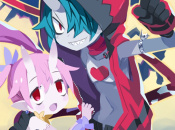 One of the many upcoming titles we're looking forward to in the new year is Disgaea 6: Defiance of Destiny. In case you forgot, this 'Summer 2021' game will be launched in the West exclusively on the Switch, while in Japan, it'll be getting a PlayStation 4 release, too.
To build up some excitment ahead of the game's release, Famitsu's YouTube channel has now uploaded a new gameplay video. As short as it is, there's a look at the Disgaea mascot Prinny performing a powerful attack, along with the game's battle mechanics.
NIS America is also giving fans located in America and Canada the chance to win a one-of-a-kind Switch Pro Controller featuring some lovely custom artwork. It also comes with a copy of the game. This contest, as noted below, will end on 31st January, so be sure to join in while you can.
Will you be adding Disgaea 6 to your Switch collection when it's released? Leave a comment down below.