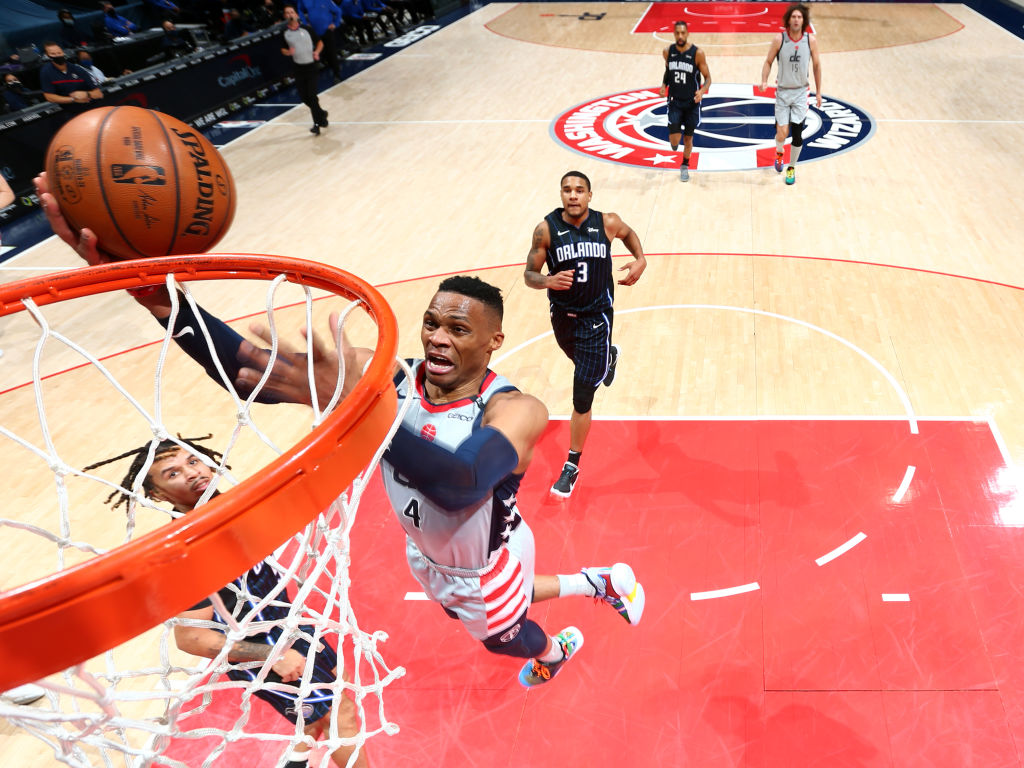 While the Washington Wizards haven't had a ton of success in the win column thus far, offseason addition Russell Westbrook has started to produce across the board again, just as he did in Oklahoma City.
The club's existing core of Bradley Beal, Thomas Bryant and Davis Bertans have performed admirably early but they could always use more support from super reserve Ish Smith and intriguing bubble star Troy Brown Jr. who've been relatively quiet.
For more information about the numbers behind our Heat Check series, hop over to our main Heat Check 2020-21 post.
| | | |
| --- | --- | --- |
| Russell Westbrook | 19.0p, 13.7r, 12.7a | 🔥🔥🔥 |
| Raul Neto | 9.3p, 1.3r, 1.5a | 🔥🔥 |
| Isaac Bonga | 5.3p, 3.5r, 1.3a | 🔥 |
| Bradley Beal | 32.0p, 4.5r, 4.5a | – |
| Robin Lopez | 5.3p, 4.3r, 0.0a | – |
| Thomas Bryant | 14.5p, 5.8r, 2.0a | ❄ |
| Davis Bertans | 12.0p, 2.5r, 1.3a | ❄❄❄ |
| Moritz Wagner | 4.0p, 2.0r, 1.0a | ❄❄❄❄ |
| Garrison Mathews | 0.0p, 0.0r, 0.0a | ❄❄❄❄ |
| Jerome Robinson | 1.0p, 1.0r, 0.5a | ❄❄❄❄ |
| Ish Smith | 5.8p, 3.3r, 2.8a | ❄❄❄❄❄ |
| Troy Brown Jr. | 3.8p, 3.0r, 1.3a | ❄❄❄❄❄ |
---
Team-by-Team Breakdown
135