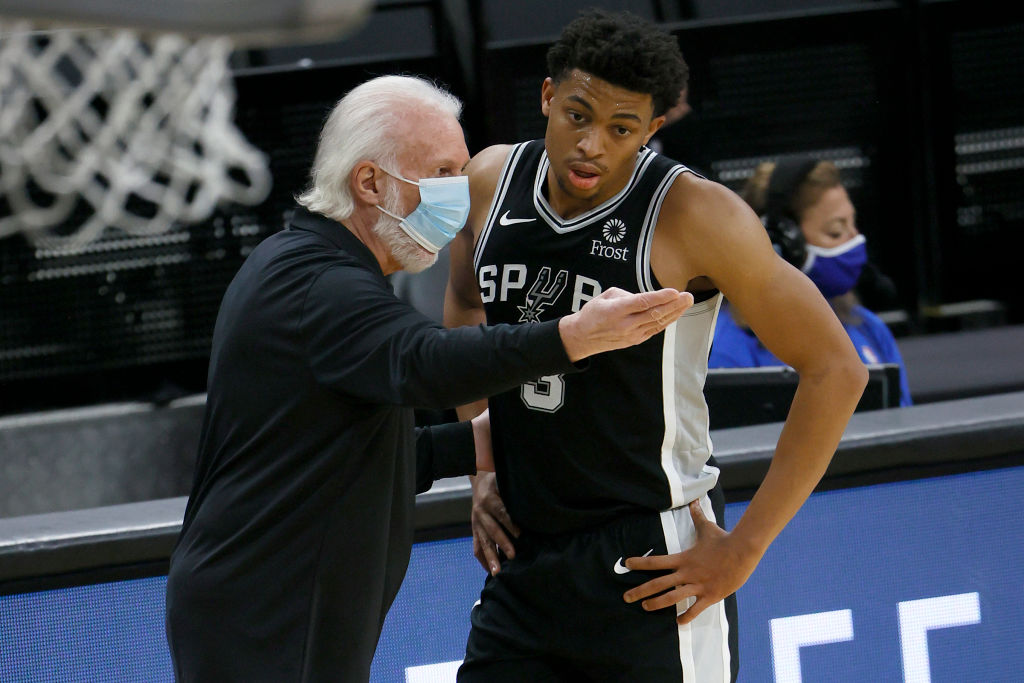 The San Antonio Spurs have been packed with intriguing young talent for a few years now but the team has always been competitive enough to push those promising young players to the back burner.
This year, Keldon Johnson and Lonnie Walker may just be polished enough for the Spurs to keep winning ball games while also shaping their future core. Dejounte Murray and DeMar DeRozan have looked nice so far but LaMarcus Aldridge has been slow out of the gates.
For more information about the numbers behind our Heat Check series, hop over to our main Heat Check 2020-21 post.
| | | |
| --- | --- | --- |
| Dejounte Murray | 18.5p, 7.5r, 7.3a | 🔥🔥🔥🔥🔥 |
| Keldon Johnson | 12.3p, 7.0r, 2.8a | 🔥🔥🔥🔥🔥 |
| Lonnie Walker IV | 14.3p, 4.0r, 2.0a | 🔥🔥🔥🔥🔥 |
| DeMar DeRozan | 21.5p, 5.5r, 8.3a | 🔥🔥🔥 |
| Patty Mills | 14.0p, 2.0r, 3.0a | 🔥🔥🔥 |
| Rudy Gay | 12.0p, 5.3r, 1.5a | 🔥 |
| Jakob Poeltl | 6.0p, 7.3r, 1.8a | – |
| Drew Eubanks | 4.0p, 5.0r, 0.0a | – |
| Trey Lyles | 1.5p, 1.5r, 0.5a | ❄❄❄❄❄ |
| Keita Bates-Diop | 0.0p, 0.0r, 0.0a | ❄❄❄❄❄ |
| Luka Samanic | 0.0p, 0.0r, 0.0a | ❄❄❄❄❄ |
| LaMarcus Aldridge | 12.0p, 4.3r, 2.0a | ❄❄❄❄❄ |
---
Team-by-Team Breakdown
125