Guide: Where To Buy The Gorgeous Limited Edition Fortnite Nintendo Switch Bundle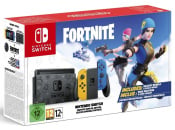 Update 30th November, 2020: The Fortnite Switch bundle has been available in North America from retailers such as Best Buy for the first time today as part of the US Cyber Monday promotional deals.
---
What's that coming over the hill? Why, it's a Nintendo Switch featuring exclusive Joy-Con colours and livery from a little game you might have heard of called Fortnite, the free-to-play battle royale shooter that's been a modest success for developer Epic Games over the past couple of years.
Nintendo has put together Fortnite console bundles with standard Switches in the past which came with codes for in-game goodies, but they can't compare to the beauty of this limited edition bundle and its bespoke paint job for both Switch and dock.
The Fortnite Switch hardware bundle has been available at European retail from 30th October 2020 and below we've collected the best deals available on the interwebs for your consideration.
So, why not set yourself up for a particularly stylish Victory Royale? Let's take a look at the best deals on Nintendo Switch Fortnite bundles:
Buy Fortnite Nintendo Switch Bundle In The US
The Fortnite Switch bundle has been a European-only deal for quite some time, but thankfully it's going to be made available in North America today as part of the Cyber Monday promotions. Walmart is out of stock at the time of writing, although Best Buy and Gamestop appear to have the Wildcat Bundle in stock. We'll update with further retailers as we find them.
Buy Fortnite Nintendo Switch Bundle In The UK

The Fortnite Nintendo Switch bundle is available in vanilla form, but Nintendo's Official UK Store also has a selection of bundles available with other popular games and a case. Check out the options below:
---
Before we go, let's take a cheeky closer look at the Fortnite console and the dock. Looks lovely, wouldn't you say? Here's a reminder of what exactly comes in this limited edition box:
– Nintendo Switch console with a unique Fortnite design on the back
– Exclusive yellow Joy-Con (L) and blue Joy-Con (R)
– Nintendo Switch dock with a unique Fortnite design
– Fortnite pre-installed
– Wildcat Bundle download code, giving access to the Wildcat Outfit and two additional styles, a Sleek Strike Back Bling and two additional styles, and 2000 V-Bucks
Let us know below if you'll be scoring a Switch-ory Royale with this bundle for the holidays.