Since the McGee twins roamed the paint for USC in the 1980s, sisterhoods have been a constant in women's basketball. The most famous, current, sister-sister combination might be Nneka and Chiney Ogwumike (shouts to Erica and Olivia), but another set of siblings could be shooting the lights out in the WNBA this season: Katie Lou and Karlie Samuelson.
Katie Lou (just Lou is fine) is the youngest of three Samuelson daughters. She is the All-American who chased greatness, went to UConn, won a couple of NCAA titles, and travelled the world with Team USA. She was picked fourth in the 2019 WNBA Draft, but reckons Karlie (the middle child) is the real inspiration.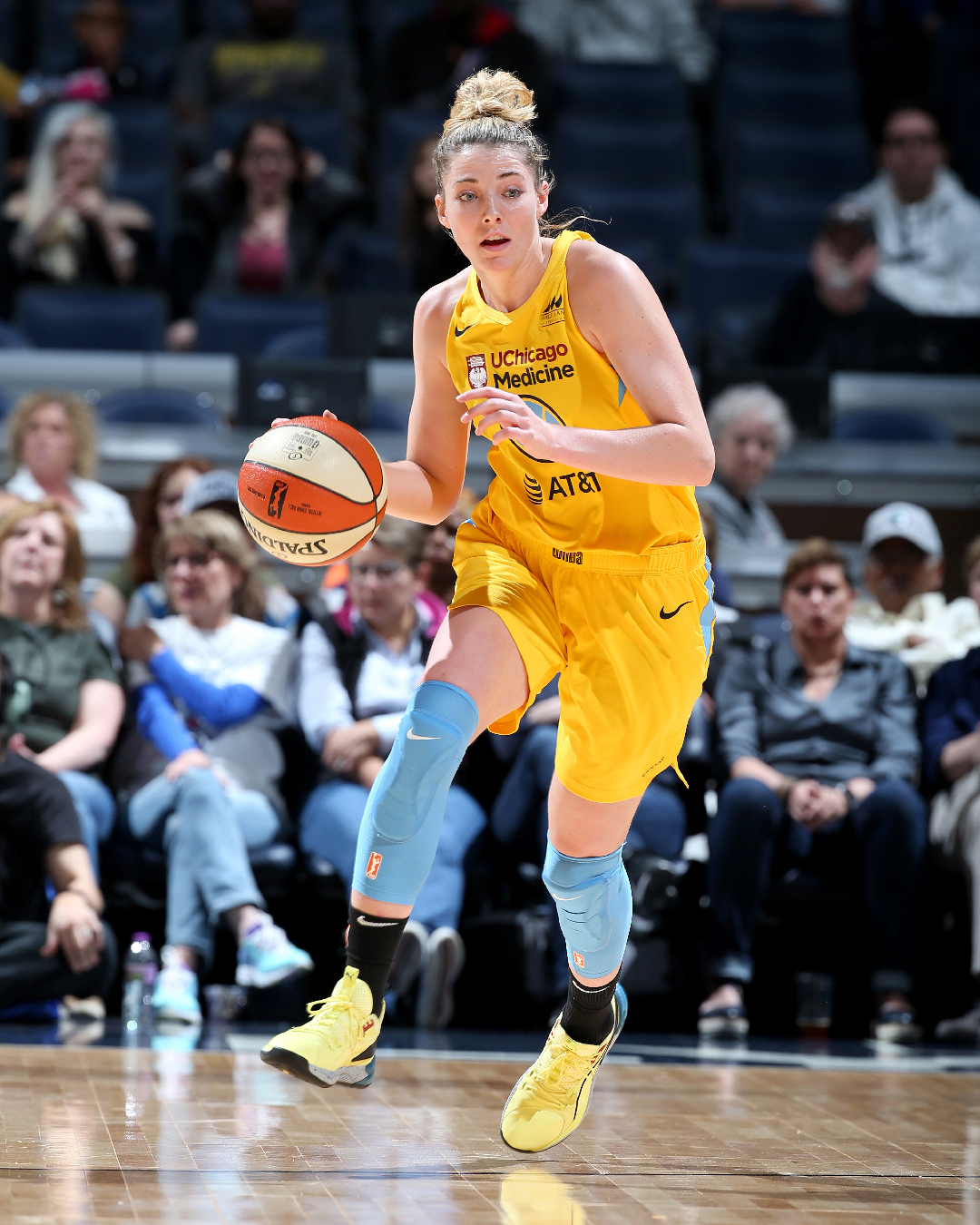 "Her career is based on pure hard work and effort," Lou says. "She's had nothing handed to her, so her journey is more inspiring than mine—she's had to fight for every single thing she's got in the league."
Don't get it twisted, Karlie is good. Her shot is kooky but deadly from distance, and she's a pest on defense. In high school, she played at Edison (CA) High with the oldest sister Bonnie, then Mater Dei (CA) with Lou, before attending Stanford alongside her older sibling, where she averaged 12 points, 3 rebounds and 2 assists in her final year en route to the Final Four. But she never saw the WNBA on the cards: "When I got invited to camp with the L.A. Sparks, it was super exciting. I was going to have fun and see how it went. I did well and thought, I can actually do this, but I broke my foot two days before the roster was due.
"The next year, I made the team, got waived for financial reasons, got re-signed, then next season I got cut and picked up multiple times. My career in the WNBA is rocky, but I'm going to keep pushing because I know I can do it. If you have a dream, keep going for it. It's just about opportunity."
Last season, the Wings needed help and knew a sharp-shooting guard who deserved a chance.
"Karlie can offer shooting and perimeter spacing," Wings Player Development Coach Bryce Agler says. "She has a good basketball IQ and is versatile in the positions she plays. She also knows our system from L.A."
Karlie will have to prove herself worthy at camp, but admits she will feel more comfortable having family there: "It'll be nice to have each other, because we can be like, Hey, you need to go rebound more, or something. We can tell each other straight up what we need to do."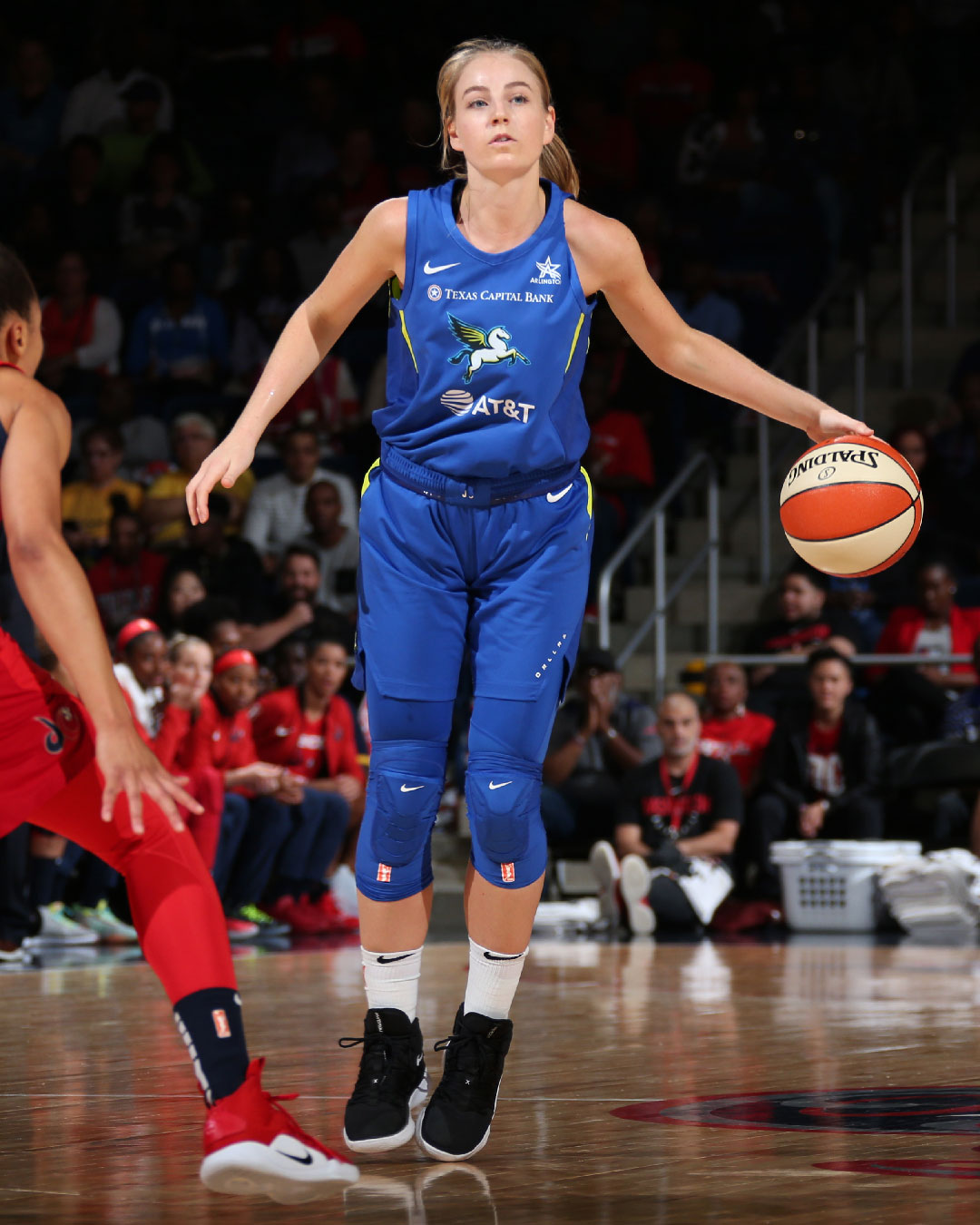 Lou agrees: "It's a long gap since we last played together, seven years, so I'm excited to be with her, and to have someone in your corner who is looking out for you. We can help each other have a good season, and we're both really motivated."
Seven years is a long time, so being locked down together is helping them reconnect and stay in shape on Karlie's Instagram account, @fitwithkarlie, while wearing an assortment of PUMA gear thanks to Lou's shoe deal.
In college, they had dreams of playing against each other. Karlie's Stanford, led by Bonnie, was the only team to beat UConn at one stage, but when Lou became a Huskie, they never faced off.
Bizarrely, they might have played against each other at the Olympics. Lou became a reliable contributor for Team USA during qualification, while Karlie was a key player for another country: Britain.
Their father, Jon, was a baller in high school but struggled in college. He went from playing at Cal State Fullerton, to Fullerton College and finished at Chapman. In 1987, he joined the Gateshead Vikings in England's National Basketball League and "lit up the league" according to teammate Paul Douglas: "They used to make jokes about him looking like a surfer but he'd go on the court and kill guys. He was too good for our division."
The 6-6 point guard recovered his shot—British Basketball League commentator and statsman Dan Routledge says he averaged 27 points that season—and found his confidence. That's how he met his future wife and the girls' mother Karen, an England national netball player, which is why Karlie opted to play for Britain.
"She's very proud," Karlie says of her mother. "When she came to watch me play, it was her first time being back for 23 years."
Since Karlie joined the British squad, the nation reached the top-four in EuroBasket for the first time ever and nearly qualified for the Olympics: "Whether or not British basketball has done huge things, I felt pride in doing it for my mom. After the qualifiers, that's one of the toughest losses I've had."
The sisters met in Serbia at the tournament. They were never on the same court, but it was a special moment for Lou: "We're so used to seeing each other on different teams, but I watched all her GB games, I know all her teammates."
This season, all that will change. The former UConn standout struggled for minutes last year as a rookie on a Chicago Sky team full of veterans, but the Wings plan to build around Lou.
The Samuelsons' off-court chemistry was caught on video recently, dribble-dancing in sync with basketballs to Drake's "Toosie Slide." But when the lockdown is over and they're back on court, the prospect excites Lou: "At Mater Dei, there wasn't any sibling rivalry over who would score points. We were competitive: in practice we'd always be on opposite teams, and the losing team would run. But whenever I would see her running, I'd feel bad. When we were on the same team, it was a different dynamic."
Karlie feels the same: "I would get very annoyed if she scored on me. We still play one-on-one and get in fights, but now we're on the same team, if she's open, I'm passing her the ball."
The Samuelsons are back together for the first time in nearly a decade, and with the Dallas Wings, they're ready to take flight.
—
Huw Hopkins is a contributor to SLAM. Follow him on Twitter @coach_huw.
Photos via Getty Images