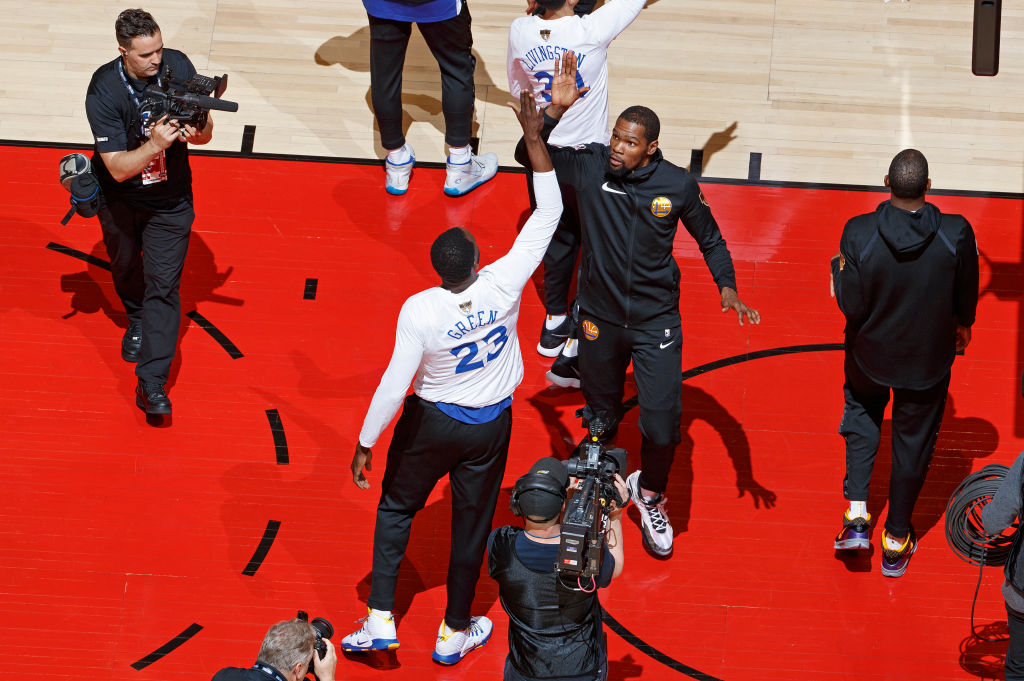 Kevin Durant's looming free agency was the "elephant" in the Warriors' locker room last season, according to Draymond Green.
Green saw similarities between how things unraveled for both the dynastic Chicago Bulls and his Dubs after watching "The Last Dance."
Draymond says his former teammate, who left Golden State to sign with the Brooklyn Nets, should have addressed his contractual situation with the group before play began.
"It definitely hit close to home," Green said on Uninterrupted's "WRTS: After Party" show with Paul Rivera and Maverick Carter. "Ironically, our season was the 20-year anniversary of that season. And we have a very important piece of our season, who was a piece of that season, which was Steve Kerr. I think Phil [Jackson] did what was great, which is acknowledge the elephant in the room. Because all year, if Phil doesn't do that, all year everyone else is dealing with that somewhere. And whether it's coming in questions [from the media], so now once you get these questions from the media, we've already addressed that as a team. We really don't need to talk about that. And our season was a little different from the standpoint of it was contracts, but it was on players. It wasn't necessarily the organization."
"So, for instance, Kevin took the one-year deal on his own. So that was kind of the elephant in the room," Green said. "And although Steve's approach was like, 'Hey, guys, let's approach this year because we don't know what next year brings,' you've got Kevin's contract, you've got [Klay Thompson]'s contract, and I kind of got thrown in that contract thing, although I had another year after that year, which was this year. And so that was kind of the elephant in the room, and although Steve would kind of hit on it, [saying], 'Let's just enjoy this year for what it is because we don't know what next year holds,' it didn't necessarily carry the same weight because what should have happened was Kevin come out and say, 'Hey, man, this is it, so let's do this,' or, 'This isn't it.'"
What bothered both Warriors players and coaches throughout the season was that they were constantly asked what Durant would do when the campaign ended, and Durant never publicly committed to a decision — a fact that Green expounded upon during the show.
"But you can't just leave the elephant in the room, because what happened was the question came to us every day, like every time we spoke to the media, Klay and myself was asked about our contract," Green said. "It was strictly due to Kevin, because while that was going on, Klay was saying, 'I want to be a Warrior forever. I want to be here. We started this thing. This is where I want to be.' I'm saying, 'Yo, I want to be here for my career. We started this, we built this, I want to finish my career here with the guys I started it with.' And then you kind of had Kevin, [saying] like, 'I don't know what I'm going to do next year, and it don't matter'; but it does matter, because you're not the only person that has to answer that question.
"To be quite frank with you, you're honestly the last person that has to answer the question because you don't really say sh*t. Like, you don't say much to the media. If anything, you tell them to shut the f**k up. Well, I don't tell them to shut the f**k up. I kind of have a conversation, and so I'm stuck answering that question all the time. And due to that, there was always an elephant in the room amongst us, as opposed to with [the Bulls], they didn't have that elephant. [General manager Jerry Krause] had said it was Phil's last year. Phil had told them this was the last dance. Mike already said, 'Well, if Phil ain't coming back next year, I'm not either.' So everybody knew it was Mike's last year. They didn't have that elephant. Whereas I think we had a huge elephant sitting in the room, and Steve was trying to address it as best as he could, but it was kind of out of his hands."