Bobby Wagner's return to Seattle highlights a larger trend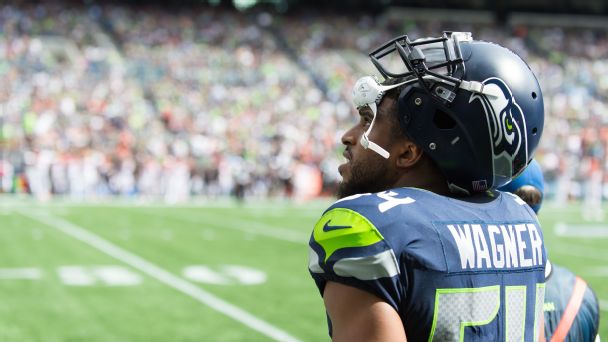 SEATTLE — Bobby Wagner's return to Seattle is more than a reunion between the Seahawks and arguably the greatest defensive player in franchise history.
It's also a reconciliation.
And it follows a pattern of star players leaving the Seahawks on sour terms, for one reason or another, only to return to the team in some capacity with their once-fractured relationship repaired. It happened with running back Marshawn Lynch in 2019 and with defensive tackle Jarran Reed earlier this month. To lesser extents, it happened with cornerback Richard Sherman and defensive end Michael Bennett, as well.
Wagner's return to Seattle is the latest example that with the Seahawks, messy exits and hard feelings don't have to mean severed ties and bridges burned.
"When you do what we do the way we do it, you invest yourself personally," coach Pete Carroll told reporters Tuesday at the league's annual meetings when asked about Wagner's return. "And if our guys are going to do it right, [the players] have to do that too.
"So what happens, you invest your time and your heart and your love for them and you create a relationship, a real relationship. And that's what you're seeing. And if it's a real relationship where you really care about people, there's going to be some ups and downs … But if you really care, you'll be there at the end of it…"
The Seahawks believe it is a testament to the culture they've built under Carroll and general manager John Schneider that players who leave the team often want to return. But that also takes an organization that's willing to welcome them back, despite any issues that led to their exit.
And as far as bad breakups go, the Seahawks have had some doozies.
By the end of Lynch's first stint with Seattle, his relationship with the organization had become so strained that he was barely on speaking terms with some team officials, including Carroll. A contract dispute, the gut-punch of Super Bowl XLIX and Lynch's free-spirited ways had all contributed to a severe disconnect. The most telling sign of that was when Lynch, while coming back from an injury in the 2015 playoffs, surprised the Seahawks by not boarding their flight to Minneapolis for a wild-card game against the Vikings.
Yet in 2019, after a one-year retirement and two seasons with the Oakland Raiders, Schneider orchestrated Lynch's return late in the year, after injuries decimated Seattle's backfield.
Reed's departure in March of 2021 came after a bizarre contract dispute in which he declined what's known as a simple restructure, a common maneuver that would have freed up cap space while paying him the same amount of money in 2021. Reed insisted on getting a new deal. The Seahawks, in need of funds amid the pandemic salary-cap crunch and upset that Reed wouldn't work with them, declined and released him instead.
"This is home for me," Reed told the Seahawks' website after signing his new deal.
The Seahawks' 2018 breakup with Sherman was a drawn-out and public process that included sideline blowups, a trade request and some shots on his way out at how Carroll's message had supposedly gotten stale among Seattle's longer-tenured players. Sherman never played again for the Seahawks, but their relationship was repaired to the point that the two sides had talks about a potential reunion in 2021.
Last year, Carroll described Sherman as something of a cornerback consultant to the organization.
Bennett, also part of the Seahawks' post-2017 veteran purge, was traded amid a fracture in his relationship with the organization. With the fences similarly mended, Bennett was part of the team's preseason television broadcast last summer.
Wagner's situation differs from the others in that his grievances were well-founded enough to elicit an apology from the Seahawks. Though they did inform the star linebacker that he was being released before that news broke last March, Wagner had already heard it through the grapevine and felt he deserved to hear it from them first.
Even after Carroll and Schneider gave a public mea culpa, each taking responsibility for the mishap, Wagner took issue with the general manager's implication that his not having an agent was a factor in the communication breakdown. He called it a weak excuse.
But given the Seahawks' history, the chances of a reunion with Wagner seemed to hinge more on whether they could find a middle ground in contract negotiations than whether they could let bygones be bygones.
ESPN's Adam Schefter reported that Wagner's deal is for one year and $7 million, and while it isn't clear if that total includes performance incentives, that number felt like a baseline given that it's what linebacker Lavonte David got to return to the Tampa Bay Buccaneers. Like Wagner, David has been in the NFL for 11 years and will be 33 by the start of this season. Unlike Wagner, he hasn't built a Hall of Fame resume, nor did he have the kind of productive season Wagner had for the Los Angeles Rams in 2022.
Carroll didn't specify what Wagner's role will be in his second Seattle stint but made several mentions Tuesday that things will be different from the first time around. The implication seemed to be that Jordyn Brooks will remain the centerpiece of Seattle's new-look defense whenever he returns from his ACL surgery, and that Wagner may not be an every-down player.
Carroll called his return a "win-win" and described the mood inside the organization as celebratory.
At some point, the Seahawks hope to reconcile with safety Earl Thomas, whose tenure in Seattle ended with a holdout and a middle finger to Carroll as he was being carted off the field with a broken leg.
But given how rancorous the breakup was with quarterback Russell Wilson — including a recent report that he tried to get Carroll and Schneider fired — the ultimate test of their willingness to forgive and forget may be when the time comes to induct the quarterback into their Ring of Honor.
But who says you can't go home? With the Seahawks, you usually can — no matter how you left.
"I'm always going to hang with them and I'm never going to leave 'em, and I'm going to be there at the end of all of the good stuff and all of the bad stuff. I'm going to still be there," Carroll said at last month's NFL combine when asked about the report that Wilson wanted him fired.
"That's it. I'm hanging, and it doesn't matter who the guy is. If you look at all of the guys that have come through our program … regardless of what has happened, has taken place or the things that have been said, if you hang with them, it all comes back around."