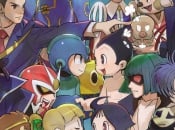 All the best stuff's made in Japan. Marty McFly knew it, Nintendo fans know it, and a newly announced artbook only reinforces that fact. Entitled 'Capcom Vs. Osamu Tezuka Characters', this 112-page A4 tome is scheduled for publication in April and will capture the unique exhibits currently on show at the Tezuka Osamu Manga Museum in Takarazuka, Hyogo until 23rd February.
The exhibition (and the book) is a joint collaboration between Capcom and Tezuka Productions — the company formed by the late 'Godfather of Manga', Osamu Tezuka — and features crossover artwork of Capcom characters drawn by Tezuka Productions artists and vice versa. Of course, the pandemic has been a limiting factor on the number of people who have been able to visit since it opened in October 2020, but this book should help make sure fans don't miss out on an intriguing collaboration.
The artbook will reportedly feature photos of the exhibits including "rare materials, development plans, original rare drawings, rough sketches, unused manuscripts and animation scripts by Osamu Tezuka himself!" (thanks, Rockman Corner).
Capcom's Mega Man took plenty of inspiration from Tezuka's Astro Boy, so it's fascinating to see that inspiration looping back on itself in a crossover which should have fans of manga, anime and video games very, very excited indeed.
According to Rockman Corner, the book will be split into five 'rounds' and include introductions from all the artists involved, chronologies of the two companies and all the artwork featured in the exhibit, plus interviews, and a brand new four-panel Black Jack vs. Ace Attorney manga drawn by Urumu Tsunogai.
Unfortunately, it appears that the book is currently only planned for Japan, and it's only available from one outlet at the time of writing — one which doesn't offer international shipping. Let's hope that soon changes because we need this in our lives (and on our shelves).
Will you be investigating import options or hoping for a western release for this epic crossover? Let us know below.